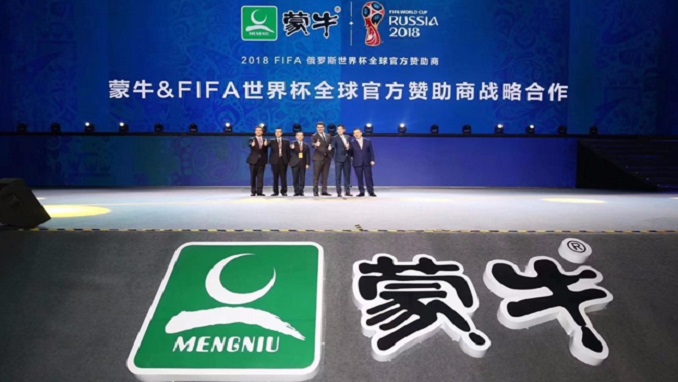 Put off by a massive FIFA corruption scandal, long-time sponsors of the World Cup coming from Western countries have left the global soccer tournament. Chinese companies took their place, but according to FIFA's Chief Commercial Officer Philippe Le Floc'h, they are by no means just plugging a gap.
From the estimated 40,000 traveling fans to the tens of millions watching on TV at home and the ubiquitous Chinese advertising in stadiums around Russia, the country's involvement this year has been more marked than at any previous tournament.
The level of Chinese involvement in FIFA's sponsorship programs, which have traditionally been filled by more familiar multi-national brands from the West or Japan, has been unprecedented.
Le Floc'h said there "maybe" had been a time when western sponsors were put off by the corruption scandal, but to ascribe the shift East in FIFA's sponsors simply to that would be a mistake.
"We never spoke to anybody telling us 'You know what, you guys are toxic. We don't want to work with you'," he told Reuters in Moscow. "It's just that economy wasn't that great, it's a heavy investment (and) you had a shift of world economy and some Asian companies, or Chinese in particular, are looking for the best vector of communication to push the drive to the world with a global footprint.
"There was a good fit. So sometimes you need to have the right constellation of events happening to work. So we're very happy with the way we are."
The involvement of Chinese companies with FIFA is fairly new. Solar panel manufacturer Yingli Green Energy was China's first World Cup sponsor as recently as 2010.
Real estate conglomerate Wanda, which also counts entertainment and sport among its huge portfolio of interests, is now among the seven "global partners" of soccer's world governing body and is committed to remain so until 2030.
Hisense is one of three Chinese firms that FIFA lists among five World Cup sponsors, the others being smartphone maker Vivo and dairy firm Mengniu.
"Chinese companies are eager to learn and expand and develop and they're also very eager to develop football in China which is what we want to do," Le Floc'h added.