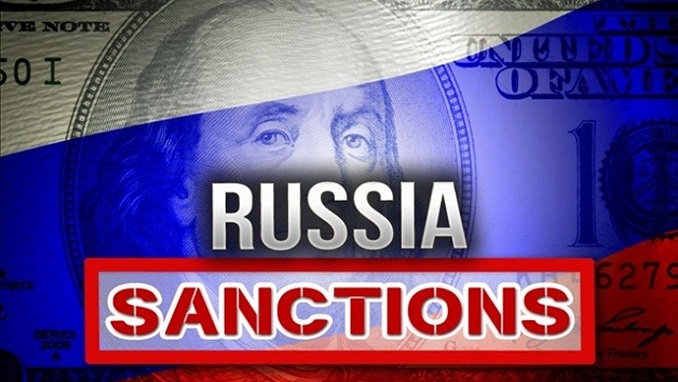 The United States, the European Union and Canada on Friday imposed financial sanctions on more than a dozen officials and entities accused of supporting Russia's occupation of south-eastern Ukraine, TASS news agency reported.
The Treasury Department announced Friday that it had blocked six Russian individuals and eight companies that allegedly coordinated and provided material support for the Kremlin's annexation of the Crimean Peninsula.
Six Russian officials, six defense firms and two energy and construction companies were targeted, either over the seizure of Ukrainian vessels in the Kerch Strait, or for their activities in Russian-annexed Crimea or separatist eastern Ukraine, the U.S. Treasury said.
"The United States and our transatlantic partners will not allow Russia's continued aggression against Ukraine to go unchecked," said Steve Mnuchin, the U.S. treasury secretary.
Companies targeted include Okeanpribor, PAO Zvezda, the Yaroslavsky Shipbuilding Plant, the Zelenodolsk Gorky Plant, Consolstroy, Sudokompozit, Fiolent, and Novye Proekti.
The U.S. sanctions freeze all property and interests in property belonging to the designated individuals and entities, and prohibits Americans from making deals with them.
Four of the individuals are border guard or coastguard officials, singled out for their role in a November 25, 2018 naval confrontation, in which Russian ships fired on and seized three Ukrainian vessels in the narrow Kerch Strait linking the Black and Azov seas near Crimea.
Canada imposed sanctions on 114 people and 15 entities in response to Russia's military action against the Ukrainian ships, while the EU sanctioned eight more Russians over the standoff.
The decision takes the number of people blacklisted by the bloc over the crisis in Ukraine to 170 persons and 44 entities.
The EU said its sanctions affected senior security service officials and military commanders accused of preventing Ukrainian ships from reaching port.