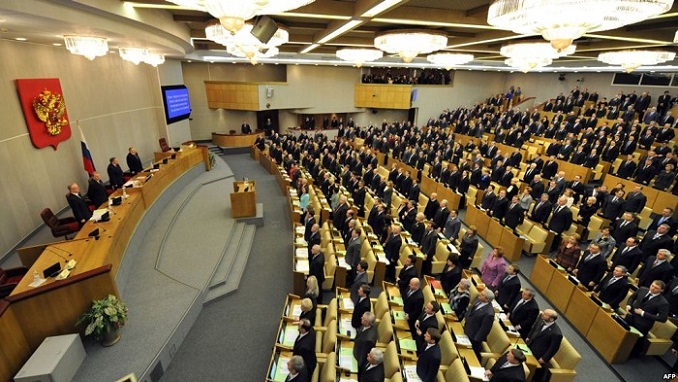 Russia's Federation Council (upper house of Parliament) is ready to back the proposal to impose criminal liability on companies operating in Russia that enforce any of the U.S. restrictions, the Council's Vice-Speaker Yevgeny Bushmin told Izvestya.
The Speaker of the State Duma (the lower house of Russia's parliament) Vyacheslav Volodin earlier pressed for passing a separate bill which would ban enforcement of U.S. sanctions on Russian soil and did not rule out criminal liability if it were breached. The first State Duma's reading of the bill is scheduled for May 15, along with amendments to the Criminal Code.
Chairman of the Federation Council's Committee for Constitutional Legislation and State Building Andrey Klishas endorses the initiative.
"Sanctions by the U.S. and other countries are aimed at restraining Russia's development and violating the rights of Russian physical and legal entities. And those who execute those sanctions on our country's soil should bear responsibility for this," he told Izvestya.
Klishas's deputy Yelena Afanasyeva shares his view.
"If Russian companies do not serve the interests of Russian citizens and the state, they should bear responsibility for that, including criminal (liability)." She added though, that small and mid-sized companies need a special approach in this regard.
"They are exposed to unprecedented pressure because of the sanctions. Revenues have dropped and they are forced to cut staff in order to maintain wages," Afanasyeva told the newspaper.
Political consultant Dmitry Fetisov expects the initiative to become a serious instrument to put pressure on U.S. business representatives in case it is adopted.
"Facing a threat of criminal prosecution, while simultaneously being reluctant to bear losses, they will be forced to ask the government to ease or lift the anti-Russia sanctions. Which is why Volodin's proposal is not only efficient but also well-thought-out," he said, adding that "the response to anti-Russia sanctions is meant to support local businesses in either situation."