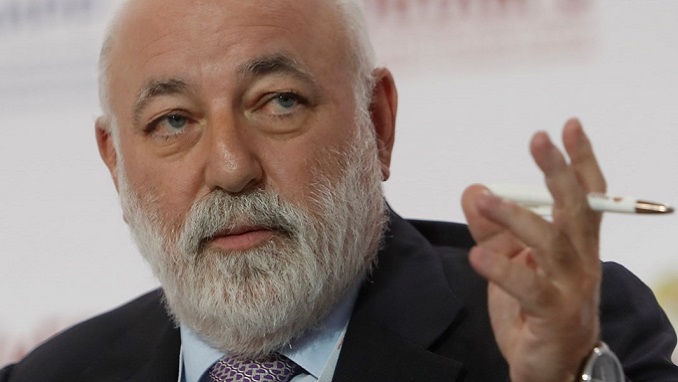 Russia's Renova Group, a business conglomerate owned by billionaire Viktor Vekselberg, has submitted, a broad list of measures to prop up its assets to the Russian government, Kommersant reports.
The move comes after the U.S. Treasury included Renova and its owner on the latest sanctions list, and the Kremlin offered to help it and other companies affected by the Washington sanctions, the business daily newspaper wrote.
The company is asking to refinance loans granted by western lenders worth a total of 820 million euro in Russian state-owned banks with its 26.5% stake in Rusal as collateral. Aluminum giant Rusal, owned by another billionaire, Oleg Deripaska, was also sanctioned by the U.S. on April 6.
According to the Kommersant report, Renova wants the government to agree to the refinancing without taking into account the market cost of the aluminum company, which Renova assumes "does not indicate its fundamental cost." It also requests assistance in refinancing loans and bonds regarding its subsidiaries worth up to $4.7 billion, including subsidies on rates and state guarantees, in case those companies are not able to services debts and facing "secondary sanctions."
Renova is also asking for preferences in obtaining state-guaranteed orders for its industrial and real estate assets, and various customs subsidies. A source familiar with the matter told the paper that the list of the company's proposals is "as broad as possible since the issues have been collected from the whole group." He added that the state rescue package would be aimed at keeping jobs in companies under sanctions and those closely tied with the top priority.
As an option, it may be done through providing floating capital and other liquidity, as well as procurements by state-controlled structures. M&A deals, and tariff and customs regulations are likely to be last of all, the source added.
The list of Renova's proposals is currently under consideration in the relevant ministries. If approved, the proposed exemptions may become a platform for a separate, alleviated economic environment for the group, the newspaper added.