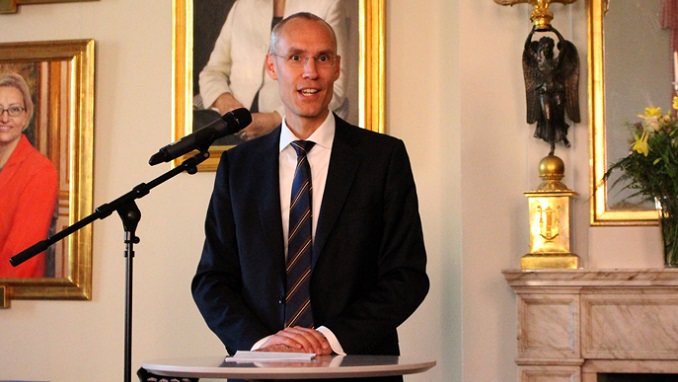 Sweden's State Secretary to the Minister for EU Affairs and Trade Oscar Stenstrom has said that even though Stockholm is committed to the European Union's sanctions policy regarding Moscow, it plans to expand cooperation with Russian citizens and businesses.
"Trade brings people together and triggers economic growth. Around 500 Swedish companies operate in Russia, and many of them are demonstrating very good results, though there are a few newcomers," Stenstrom said in an interview with Kommersant.
According to the official, Sweden is traveling down two paths.
"Sweden is a reliable and stable EU partner on anti-Russia sanctions. We are committed to our principles that borders cannot be changed using force, and it is necessary to stick to the Budapest memorandum. We were surprised by the events in Georgia, Ukraine, and Crimea. Meanwhile, there is the other path, which is widening contacts between the people of Russia and Sweden, part of it being the expansion of cooperation between companies," he explained.
Asked why Stockholm has been putting more emphasis on military construction and its move to boost military spending, Stenstrom replied by saying that this strategy is in line with the country's needs.
"Our policy in this field has a three-tier structure: Sweden-European Union-United Nations. Our defense expenditures have always been very low, and we have considered them insufficient," he stated.
"Those changes are not targeted at any country. We are not joining NATO, and we feel no threat coming from anyone, even Russia. That said, we cannot ignore the fact that there are countries in our region with rising defense outlays. Not only Russia but also other European countries. The global environment is becoming increasingly unpredictable," the official stressed.
Aside from the Secretary's remarks, Sweden has so far followed Europe's strict sanctions policy over Russia's intervention in Ukraine and its annexation of Crimea. In March, it was reported that momentum is building in Denmark and Sweden for the adoption of Magnitsky Acts – a form of sanctions dreaded by the Kremlin, over the poisoning of a double agent and his daughter on British soil.
In Sweden, almost half of MPs would already back a Magnitsky Act, according to Bill Browder, a British activist campaigning for the sanctions.
Magnitsky Acts, so-called after Sergei Magnitsky, a Russian activist who died in police custody, enable countries to impose asset freezes and visa bans on foreign nationals on human rights grounds.
They are already in force in the Baltic countries, Canada, and the U.S., which have used them, for the most part, to go after the 50 or so Russians involved in Magnitsky's death eight years ago.