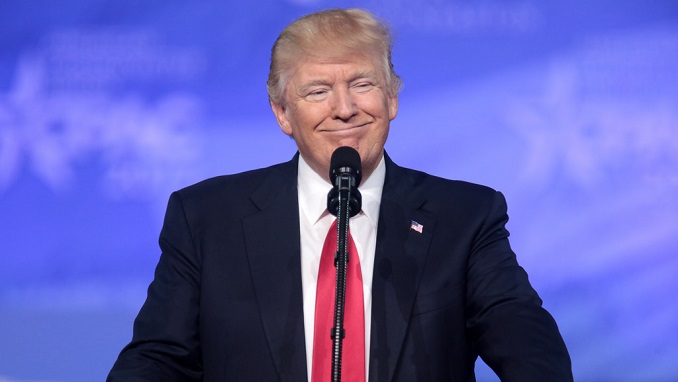 U.S. President Donald Trump suggested Monday he may end steel tariffs on Mexico and Canada if they give him better trade terms while re-negotiating the North American Free Trade Agreement (NAFTA).
Without getting into detail, Trump said that Canada "must treat our farmers much better," while Mexico "must do much more on stopping drugs from pouring into" the United States, VOA News reported.
"NAFTA, which is under renegotiation right now, has been a bad deal for U.S.A.," Trump tweeted. "Massive relocation of companies & jobs. Tariffs on Steel and Aluminum will only come off if new & fair NAFTA agreement is signed."
Contrary to Trump's claims, the United States has a trade surplus with Canada.
Canada is the largest U.S. trading partner and last year shipped $7.2 billion worth of aluminum and $4.3 billion of steel to the United States.
Trump's tweets kicked off a week in which he plans to sign new tariffs of 25% on steel imports and 10% on aluminum imports, a move that has drawn criticism from economists who say it will spark a trade war and higher prices for consumers worldwide.
The tariffs would also hit other U.S. allies — Britain, Germany, South Korea, Turkey and Japan. But China, the world's biggest steel producer, only sends 2 percent of its supply to the U.S. and would be less affected.
Aides said there are no plans for exemptions, but that Trump could always decide otherwise.
"He has made a decision at this point, 25 and 10," said Commerce Secretary Wilbur Ross, speaking Sunday on NBC's Meet The Press. "If he for some reason should change his mind, then it'll change."
The president also left his plans unclear, tweeting later in the day: "To protect our Country we must protect American Steel! #AMERICA FIRST."
Trump made trade a major focus of his 2016 presidential campaign, claiming other countries were taking advantage of the United States.
He pledged to place tariffs on foreign products and threatened to end the North American Free Trade Agreement with Canada and Mexico unless they signed off on changes to NAFTA, the subjects of ongoing negotiations.