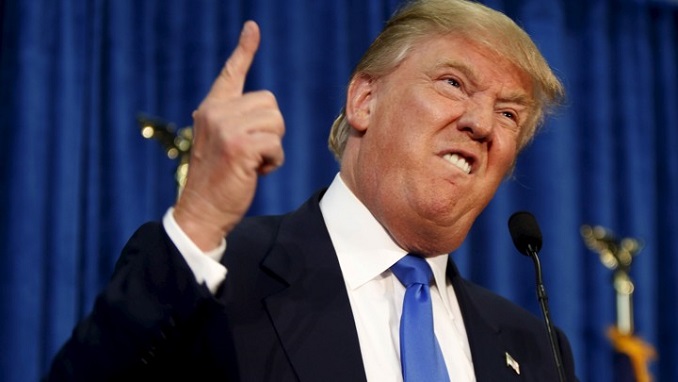 The United States currently isn't considering lifting sanctions on Russia, but President Donald Trump would consider doing that if Russia gave him something he wants in Ukraine or Syria, he said in an interview with Reuters.
"I'm not considering it at all. No. I would consider it if they do something that would be good for us. But I wouldn't consider it without that," Trump said in the interview released late on Monday.
Trump then suggested areas where he could foresee making a deal with Russia over sanctions.
"We have a lot of things we can do good for each other. You have Syria. You have Ukraine. You have many other things," he said.
Trump told the news agency that Putin did not ask him to lift U.S. sanctions during their summit in Helsinki last month. But he said the two in a private meeting that lasted nearly two hours did talk about Russia's annexation of Ukraine's Crimean Peninsula and incursion into eastern Ukraine, as well as the Nord Stream 2 pipeline from Russia to Germany that will supply natural gas to Germany.
"I mentioned Crimea, sure. I always mention Crimea whenever I mention Ukraine. Putin and I had a very good discussion. It was a very — I think it was a very good discussion for both parties. I mentioned the gas pipeline going to Germany," Trump said.
The U.S. first imposed sanctions on Russia over its annexation of Crimea in 2014, and since then has steadily ratcheted up and expanded the sanctions, citing alleged abuses from Russian interference in the 2016 presidential election to its alleged chemical weapons attack on a Russian ex-spy this year in Britain.
Washington has also threatened to impose sanctions over the Nord Stream 2 pipeline, which it maintains will increase German and European dependence on Russian energy.
On an issue related to sanctions — Russia's faltering economy — Trump told Reuters Putin seemed eager for help at the summit.
"I think they would like economic development. And that's a big thing for them," he said.
"We had a very good, I guess, close to two-hour meeting. We had another good meeting with a lot of our representatives there. We talked about Israel, we talked about insecurity for Israel, we talked about Syria, we talked about Ukraine," he said.