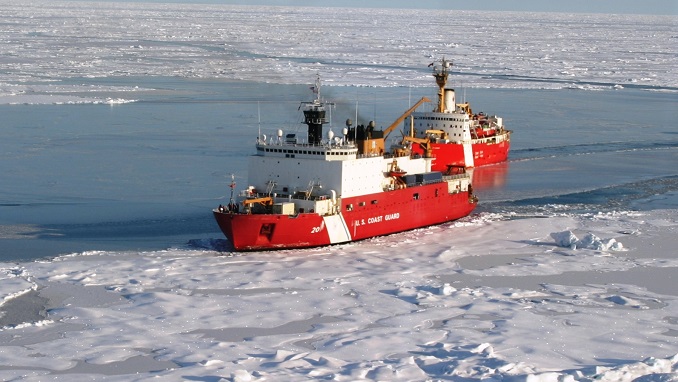 As the Arctic gains geopolitical importance due to global warming and new trade routes open in the once frozen northern ocean, Russia seems to have the upper hand in the 'Arctic Cold War', columnist Peter Apps writes in a Reuters commentary.
Last August, a Russian tanker sailed directly from Norway to South Korea through the Arctic Ocean, the first time such a ship had done so without an icebreaker escort. It was a defining moment in the opening up of previously frozen northern trade routes – and it looks to have supercharged an already intensifying arms race and jostle for influence on the roof of the world.
The developments will present a challenge for the United States, which has never regarded the High North as a major strategic priority and instead saw the region as Russia's sphere of influence. But China, too, is stepping up its plans to become a major player in the region.
Beijing issued its first white paper on its national Arctic strategy last week, pledging to work more closely with Moscow in particular to create an Arctic maritime counterpart – a "Polar silk road" – to its "one belt, one road" overland trade route to Europe. Both the Kremlin and Beijing have repeatedly stated that their ambitions are primarily commercial and environmental, not military.
Washington, however, is increasingly suspicious and – aware it risks falling behind – the Pentagon has been reviewing its Arctic strategy.
Speaking to Congress in May, the commandant of the U.S. Coast Guard, Admiral Paul Zukunft, revealed that Washington was considering fitting anti-ship cruise missiles to its latest generation of icebreakers, a major departure from these vessels' primary research and rescue role.
It's a suggestion mocked by pro-Kremlin news channels, with one of Russia's top officials saying in Norway in January that the Arctic region posed no "military challenges" to any country.
In fact, Russia's military expansion in the Arctic Circle far exceeds that of any other nation, and it has other nearby nations alarmed – particularly Norway and Canada, which have vast swathes of largely unpopulated northern territory as well as offshore oil, gas and mineral interests they worry may be increasingly challenged.
Moscow is currently investing in its northern military capacities at a level sometimes surpassing Soviet-era spending. Six military outposts were upgraded and reopened in recent years, and three new, large nuclear icebreakers were added to the already 40-strong Russian fleet.
The Northern Fleet, based in Murmansk, will also receive its own raft of new investment, including two icebreaking corvettes specifically designed to carry Moscow's own latest anti-ship missiles. Russia says its Northern Fleet launched more than 200 missiles as part of nearly 300 exercises in 2017, almost certainly a post-Cold War record.