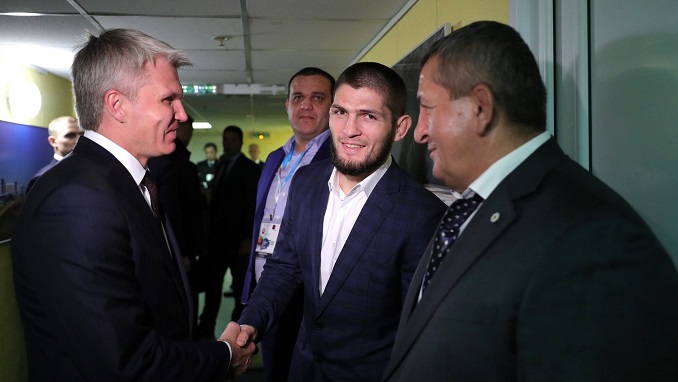 Russian UFC fighter Khabib Nurmagomedov, who is world lightweight champion, leads the latest Forbes list of the most successful Russians from sport and show business under the age of 40, Chempionat.ru reports. 
The most popular Russian MMA fighter found himself ahead of rappers, pop stars and ice hockey legends at the top of the list. 
The 30-year-old fighting star, who will feature on the cover of Forbes's next Russian edition, edged out TV personality-turned-pop princess Olga Buzova and ice hockey great Alexander Ovechkin to head the list, which is based on an overall score combining income and media presence.  
The undefeated fighter from the Russian republic of Dagestan raked in an estimated income of $11.5 million, in addition to having around 75,000 mentions in the media and more than 1.5 million on social media.
That earned him an overall score of 73.18 compared to TV celebrity-come-pop star Buzova's tally of 72.14.
Buzova, 33, is a ubiquitous presence in various guises on Russian TV screens and has amassed an Instagram following of over 16 million. She has brought in $4.4 million in income and featured in around 73,000 mentions in the press – along with a whopping 4.4 million on social media.