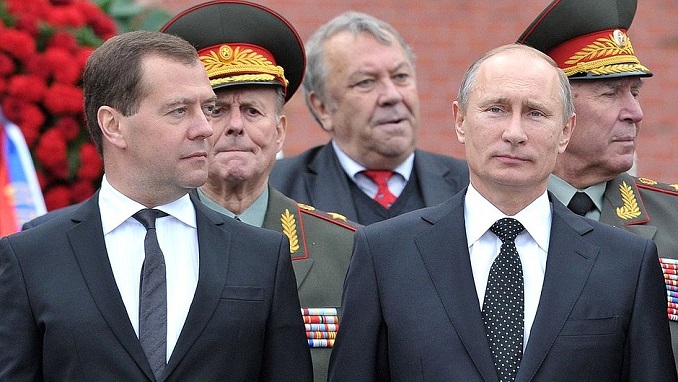 The list of 114 Russian politicians and 96 "oligarchs" the Trump administration released on Monday contains what Washington calls "people linked to Russian President Vladimir Putin", a wide formulation used by the U.S. to include the whole Russian government, along with the most prominent Russian businessmen, on the list.
On the so-called "Putin list" is the president's longtime political ally, Russian Prime Minister Dmitry Medvedev. He and Putin switched President-PM positions several times since 2008, in a sort of a "tandem" arrangement.
Medvedev has been accused by Russian opposition activists of large-scale corruption, claims he denies.
Also on the "Putin list" is Medvedev's entire cabinet, including influential Defense Minister Sergei Shoigu and Energy Minister Alexander Novak, who oversees the Russian oil and gas industries. Putin's personal spokesman, Dmitry Peskov, makes the list as one of 33 officials from the presidential administration.
Miller has been loyal to Putin throughout his 17 years as chief executive of state gas company Gazprom. During that time, Gazprom has often been accused by European political leaders of using energy supplies as a geopolitical weapon. On some occasions, Eastern Europe's gas supply has been cut off due to disputes between Russia and neighboring Ukraine over energy pricing, often seen as proxies for wider political arguments.
Roman Abramovich, perhaps best known internationally as the owner of Chelsea soccer club in London, is also on the list. The billionaire businessman made his fortune in oil and aluminum during the chaotic years that followed the collapse of the Soviet Union in 1991. He's since embraced a glamorous lifestyle, with vast private yachts, art deals and his ownership of Chelsea, which he bought in 2003 and turned into title contenders in England and Europe.
Another prominent oligarch on Washington's 'Putin list' is Azerbaijan-born property developer Aras Agalarov. He hosted Donald Trump at the Miss Universe pageant in Moscow in 2013, and Trump later featured in a music video made by Agalarov's son, Emin. The elder Agalarov has told the Associated Press that Trump "was thinking of building" a Trump Tower in Moscow, but it didn't work out.
The Agalarovs were mentioned in emails ahead of a meeting between Trump's son, Donald Trump Jr., and Russian lawyer Natalia Veselnitskaya and others in June 2016. Ahead of the meeting, Trump Jr. was promised dirt on his father's election rival, Democrat Hillary Clinton. He has since denied such material ever materialized.