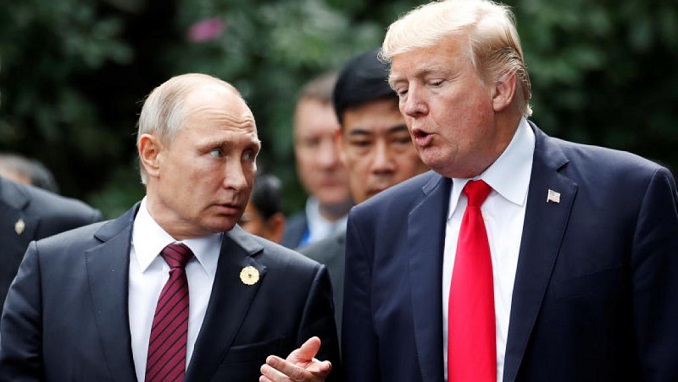 A woman jailed in Thailand for offering sex lessons without a work permit says she has stories to tell involving the Kremlin, Russian billionaires and even the president of the United States, Newsweek reports.
Anastasia Vashukevich, from Belarus, shot to fame in early February when Russian opposition leader Alexei Navalny published an investigation drawing on Vashukevich's social media posts suggesting corrupt links between billionaire Oleg Deripaska and a top Kremlin official, Deputy Prime Minister Sergei Prikhodko.
The report featured video from Deripaska's yacht in 2016, when Vashukevich claims she was having an affair with him. Russians have focused on the ties between Deripaska and Prikhodko. But now Vashukevich says — so far without proof — that she can link the Kremlin to Trump and Manafort, who worked for Deripaska a decade before Trump hired him.
The woman told The Associated Press from a police van Wednesday that she fears for her life, and wants to exchange information on alleged Russian ties to Donald Trump's campaign in exchange for U.S. asylum and safety. But Vashukevich refused for now to offer any such evidence, and it's not clear if she has any.
Vashukevich's story offers a glimpse into the shady world of Russian oligarchs. Trump's onetime campaign chairman, Paul Manafort, also had ties to that world through his consulting work for one of those oligarchs.
Manafort has been indicted on money-laundering charges related to his overseas consulting work by special counsel Robert Mueller. But Mueller has offered no evidence that Manafort linked his Russian contacts to Trump's campaign or helped Russia meddle in the 2016 U.S. election.
Even Navalny told the AP on Wednesday he has "certain doubts" that Vashukevich has any evidence about alleged direct ties between Russia and the Trump campaign.
"I think such statements are made because of fears for her own life because they have been detained in Thailand," he said, adding he believes her fears are well-founded.
Navalny's report made no claim that Vashukevich knew anything about a Russian campaign to influence the U.S. election, and she has produced no evidence that she does.
As for her claims of Deripaska's ties to the Kremlin official, Deripaska has called them nonsense when Navalny alleged them.