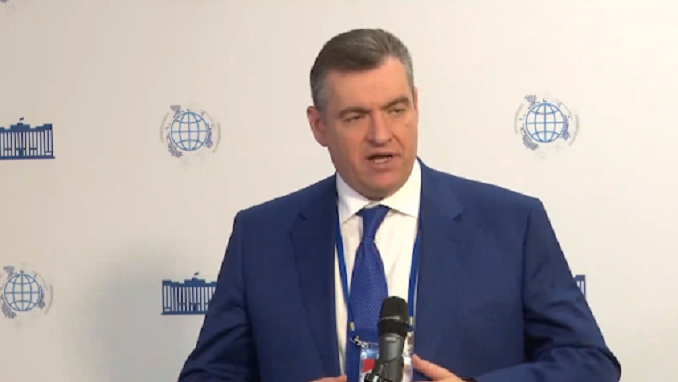 The European Union will never be able to influence Russia's foreign policy; its sanctions are not only useless but also harmful to Europe, said Leonid Slutsky, Chairman of the State Duma's international affairs committee, on Thursday.
The State Duma is Russia's lower chamber of parliament.
Slutsky was responding to a recent statement by Josep Borrell, High Representative of the European Union for Foreign Affairs and Security Policy.
Borell stated in an interview with the Pais newspaper that sanctions on the Russian Federation are an effective policy, albeit they are not without consequences.
"Josep Borrell, the chief of European diplomacy, should quit deluding himself about the impact of anti-Russian sanctions. No Western actions have had or will have an impact on our foreign policy. The sanctions policy fails to fulfill its aim, indicating that it is ineffectual. Do not believe in illusions ", in his Telegram channel, Slutsky stated.
The member emphasized that Brussels has succeeded in "degrading ties with Russia and pushing the Russophobic minority out of control."
"It came to the point where the latest attempt of the EU-driving powers, France and Germany, to convene a Russia-EU summit was stymied by Poles and Balts, who were so scared of losing the possibility to get subsidies for anti-Russian speculators," Slutsky remembered.
The deputy also referenced statistics from a report issued by the Dusseldorf Chamber of Commerce and Industry at the end of 2020. According to the report, sanctions against Russia cost Europe 21 billion euros each year. Germany's losses alone are 5.45 billion euros.
"As Russia's President stated in a straight line in 2019, the European Union has collected less than $240 billion as a result of the sanctions war since 2014. However, the Foreign Ministry stated that if economic sanctions were abolished, commercial turnover between Russia and the EU might exceed $550 billion", Slutsky made a point of it.
"I'm curious whether Borrell meant that "effect"? Indeed, a 'amazing' outcome. How much more is the European Union willing to lose if the route dictated from across the water is followed?", Slutsky said it succinctly.