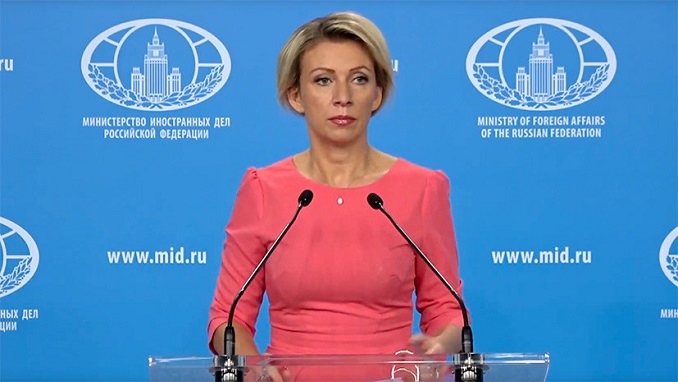 Facing harsh economic measures imposed by Washington and its allies in Europe, Russia is working to cut Western influence out of its economy, Foreign Ministry spokeswoman Maria Zakharova said in an exclusive interview with RT.
Last month, US President Joe Biden unveiled a new package of sanctions against Russian businesses and officials, while, at the same time, effectively banning American financial institutions from buying shares in Russian sovereign debt. Officials in Washington described the restrictions as a "proportional" response to alleged meddling by Moscow in the 2020 US presidential election, and assertions Russia was behind the colossal SolarWinds cyber-espionage breach detected last year. The Kremlin has strongly denied both sets of claims.
The UK and the EU have both since rolled out their own sanctions, and there is talk in European capitals of more measures to come. Few moves have been as extreme, though, as the decision to target national debt bonds, which the White House says was designed to hit the country's economy while minimizing the impact on world markets. However, some economists claimed the package of measures was mostly "symbolic," and the new rules could simply be "circumvented" if buyers still wanted to pick up shares in Russian debt.
Zakharova told RT over the weekend that new economic barriers were "having a complex negative impact on both Russian and Western economies." According to her, the price of playing out hostilities through the financial markets is high, and "estimates of the damage vary, but are well within the hundreds of billions of dollars."
"Unfortunately,the reality of our time has been the increased use of politically motivated unilateral measures by some Western states, mainly the US. We see the sanctions against Russia more and more as a 'gesture of desperation' due to the inability of elites to accept the new realities, abandon their collective groupthink, and recognize Russia's right to determine its own development path and build relations with its partners." she said.
One reason behind this, Zakharova claimed, is that Washington and its allies "seem to find it difficult to accept the obvious successes of the Russian economy, the increase in its international competitiveness and the expansion of the presence of quality Russian goods and services on world markets."
While the ruble has been hit hard by falling oil prices, geopolitical uncertainty, and the global recession that has accompanied the Covid-19 pandemic, the country appears more resilient than most of its contemporaries. While a number of other European nations are still languishing in lockdowns, most Russian businesses have been trading consistently with few restrictions since an initial strict quarantine period in the first half of last year.