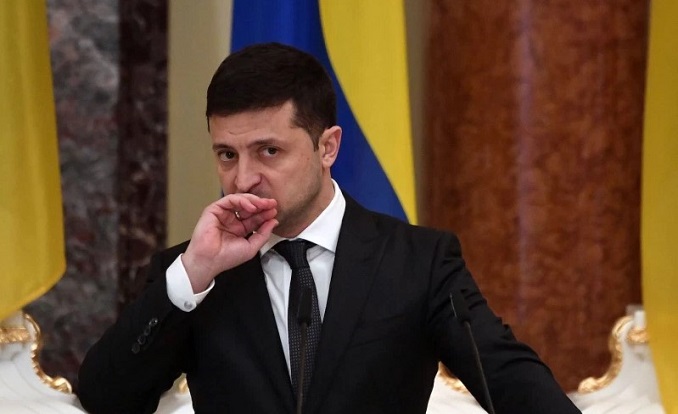 Ukrainian president Volodymyr Zelenskiy called for a summit with Russian President Vladimir Putin and to restart the four way talks under the Normandy Format during a trip to Paris to meet with his French counterpart President Emmanuel Macron on April 16, bne IntelliNews reports.
Macron met Putin in person for the first time during the first Normandy Four summit in December 2019 where he began negotiating an end to the fighting in Ukraine's Donbas region against the Kremlin sponsored rebels. However, a follow up meeting never happened due to disappointing progress in the negotiations and the outbreak of the coronavirus pandemic.
Now as the world begins to emerge from almost a year of lockdown Zelenskiy is attempting to revive the talks with Russia. German Chancellor Angela Merkel also participated in the meeting via video link.
The three leaders also ended their Friday meeting urging Russia to withdraw extra troops amassed on the Ukrainian border and in occupied Crimea.
Zelenskiy told reporters that he also hoped to restore the ceasefire in war-torn eastern Ukraine at an upcoming meeting of four advisors to the leaders of Russia, France and Germany on April 19.
The ceasefire "was productive at first, but then, unfortunately" ended, Zelenskiy told reporters.
The meeting came a day after U.S. president Joe Biden slapped fresh sanctions on Russia for its threatening military build up along Ukraine's border and a shopping list of other complaints.
Kremlin played down any possible negative economic impacts from the new sanctions. Spokesman Dmitry Peskov replied to reporters on Friday, when asked if the Russian economy would weather the new restrictive measures imposed by Washington.
"[Russia's] macroeconomic stability is fully ensured, our regulator is acting moderately and successfully, the efficiency of our economic bloc is recognized internationally."
"We see no reason to doubt this effectiveness," the Kremlin official added, TASS reported.
While the markets welcomed the sanctions as some of the mildest of the possible alternatives, targeting two dozen officials and banning U.S. investors from participating in the Russian ruble bond primary market, but not choosing the far more damaging option of banning them from buying the bonds on the secondary market.
Russia responded angrily and announced a range of retaliatory measures, but pointedly the Kremlin seems to have accepted Biden's sanctions as measured and has not ruled out the possibility of a summit between the two leaders.
Moscow expelled 10 diplomats and imposed visa bans on a number of senior U.S. officials including John Bolton, a well know Russia-hawk and formerly U.S. president Donald Trump's National Security Advisor of the United States.
Russia also announced it was restricting access to the Sea of Azov and banning military and state-owned vessels passing through the Kerch straights that is controlled by Russia until October. The restrictions could bottle up two of Ukraine's largest ports that are responsible for handling the cargo of some of its best hard currency earners such as grain, steel and coal exports.
And tensions ticked up another notch on April 17 when Russia's Federal Security Service (FSB) detained a consul of the Ukrainian General Consulate in St. Petersburg for, "activities incompatible with his diplomatic status." The consul was accused of obtaining classified information from the databases of law-enforcement agencies and the FSB, the FSB's press office told TASS.
"On April 16, the Federal Security Service apprehended Ukrainian diplomat – consul of the Ukrainian General Consulate in St. Petersburg Alexander Sosonyuk red-handed upon receiving classified data from the databases of Russian law-enforcement agencies and the FSB," the press office said in a statement.
Zelenskiy Macron meeting
Zelenskiy has been on the road in the last few weeks trying to drum up international support for his confrontation with Russia. The trip to Pairs was to rekindle the Normandy Four talks which has been the main vehicle for international mediation.
"I want to get the four of us" together to discuss "the issue of the security situation in eastern Ukraine and the de-occupation of our territories", Zelenskiy said after the meeting with Macron and Merkel.
Zelenskiy said that the Normandy Four process was "in a coma" and that "I think it is Macron who can give [the Normandy format] artificial respiration," the Ukrainian president told Le Figaro before the meeting.
"Ukraine's sovereignty is under threat," Macron's office said heading into the talks Friday, adding: "All our work is aimed at avoiding an escalation and defusing tensions."
Zelenskiy also visited Turkey last week where Turkish president Recep Tayyip Erdogan threw his weight behind Ukraine and surprised observers by declaring Turkey didn't recognize Russia's annexation of the Crimea peninsula in 2014, incurring Moscow ire. Russia responded by cancelling charter flight to Turkey from Russia that could cost Turkey up to $5bn in lost tourism revenue at a time where it is desperate for hard currency earnings.
Zelenskiy also urged NATO to speed up his country's membership of the application to join the military treaty on April 6, saying it was the only way to end fighting with pro-Russia separatists during a meeting with NATO secretary general Jens Stoltenberg on April 6.
Neither NATO nor the EU have ever offered Ukraine the prospect of joining either club and joining the military alliance is a red line Russia would not tolerate Ukraine cross, although it is more ambivalent about Ukraine's desire to join the EU.
However, both organization have welcomed Ukraine's turn to the west and have warm relations with Ukraine. That has left Kyiv in a no mans land of disrupted relations with Russia but with not real prospect of joining the west. Zelenskiy suggested this limbo be brought to an end and both NATO and the EU make their intentions on Ukraine's eventual membership application clear.
"We cannot stay indefinitely in the EU and NATO waiting room," Zelenskiy told French daily Le Figaro. "If we belong to the same family, we must live together. We cannot go out together forever, like eternal fiancés, we must legalize our relations."
Kerch closed again
This is the second time Moscow has closed off the Kerch straights, after an incident in November 2019 shut down the key shipping route ended with the Russian navy capturing a Ukrainian navy boat that failed to stop when hailed in the straight.
Opinion remains divided as to if the incident was a provocation by former President Petro Poroshenko design to drum up more support from his western allies, or an act of military aggression by a belligerent Russia. The upshot was the straights were closed for several weeks, hamstringing Ukraine's merchant fleet and hurting its foreign trade regime.
Tensions between Moscow and Kyiv have flared again after Russia sent thousands of troops to the Ukraine border this month and the new US sanctions have only poured oil on the fire.
"From 21:00 on April 24 until 21:00 on October 31, passage through the territorial sea of the Russian Federation for foreign military ships and other state vessels will be halted," the state-run RIA Novosti news agency cited a defense ministry statement as saying.
The restrictions will affect the western tip of Crimea, the peninsula's southern coastline from Sevastopol to Hurzuf, and a "rectangle" off the Kerch peninsula near the Opuksky Nature Reserve, the Moscow Times reports.
The final area is near the Kerch Strait, which connects the Black Sea to the Sea of Azov which is home to two of Ukraine's biggest ports.
Ukraine's foreign ministry on Thursday slammed the navigation restrictions, which were initially reported without specifics earlier this week, as a "usurpation of the sovereign rights of Ukraine."
Moscow reaction
Russia expelled 10 U.S. diplomats from the country in the traditional tit for tat retaliation for Washington's decision to expel the same number of diplomats from the U.S. as part of Biden's package of sanctions the same week, as well as suggesting the U.S. ambassador John Sullivan return home for consultations.
Moscow also banned eight high ranking U.S. officials from entering the country including former national security advisor John Bolton, FBI Director Christopher Wray, Director of National Intelligence Avril Haines, U.S. Attorney General Merrick Garland, and Secretary of Homeland Security Alejandro Mayorkas.
FBI Director Christopher Wray, Director of National Intelligence Avril Haines, U.S. Attorney General Merrick Garland, and Secretary of Homeland Security Alejandro Mayorkas.
Others to face an entry ban were Director of the Federal Bureau of Prisons Michael Carvajal, Director of the Domestic Policy Council Susan Rice and ex-CIA head Robert James Woolsey, Reuters reports.
In addition the Kremlin said it would make it harder for the U.S. embassy in Moscow to staff itself by banning Russian nationals from working at the embassy.
"Now is the time for the United States to demonstrate good sense and to turn its back on a confrontational course," Russian foreign minister Sergei Lavrov said in a statement. "Otherwise an array of painful decisions for the American side will be implemented."
Lavrov warned Russia has options to hurt the United States economically and to shrink its diplomatic corps in Russia to just 300 people, but was holding fire for now. While Russia's economic leverage over the U.S. is limited it does control 40% of Boeing's supply of titanium amongst other things, an essential input into the construction of aircraft. Boeing has a large R&D facility in Russia and is reliant on Russia for the metal.
Biden reaches out
Biden followed up the release of his sanctions with comments to try and pour some oil on the ruffled waters. He is playing a difficult game where on the one hand he needs to appear tough on Russia for domestic political reasons and on the other keeping the door open for cooperation with Russia on a number of international problems for which he needs Russia's help, including Afghanistan, Libya, Syria, the fight against international terrorism, dealing with the climate crisis and restarting arms control talks.
The Kremlin is well aware of Biden's dilemma and has also been careful to cut him some wiggle room. Lavrov has warned that Moscow will react harshly to sanctions imposed by Washington that cause "economic damage" to the Russian economy, leaving the White House a loophole to impose sanctions without bring down a harsh retaliation. The fact that the Kremlin suggested a summit between Putin and Biden remains a possibility following this week's new U.S. sanctions suggests that Biden's sanctions were acceptable to Moscow.
Biden reiterated the message of compromise in comments the day after the new sanctions were released saying: "This is not the time to escalate. We want stable and sustained relations with Russia."
However, Biden emphasized the tense nature of the relations and warn things could go badly as well as well.
"If Russia continues to interfere with our democracy, I'm prepared to take further actions to respond. It is my responsibility as president of the United States to do so," Biden said from the White House.
"I was clear with President Putin that we could have gone further, but I chose not to do so, I chose to be proportionate," Biden said of the measures, adding that he did not want to "kick off a cycle of escalation and conflict with Russia."
Russian presidential spokesman Dmitry Peskov met these comments with equally pragmatic comments that significantly scaled down some of the harsher rhetoric from Russian lawmakers following the new sanctions release.
"(Putin) has repeatedly said we're ready to develop dialogue as much as our counterparts are ready to do so. In this sense it is probably positive that the views of the two heads of state coincide," Peskov told reporters before the Russian counter sanctions were unveiled.
Nevertheless the summit will be hard to organize as the two sides dance around the fraught relations denigrated by years of confrontation.
Russia's foreign ministry said Biden's Putin summit proposal had been initially well received, but was now being studied in the context of unfolding events.
"We would like to avoid a further escalation with the United States. We are ready for calm and professional dialogue, " the ministry said.
"However the reality is that we hear one thing from Washington and in practice we see something completely different. There should be no doubt – not a single sanctions 'wave' will remain unpunished."