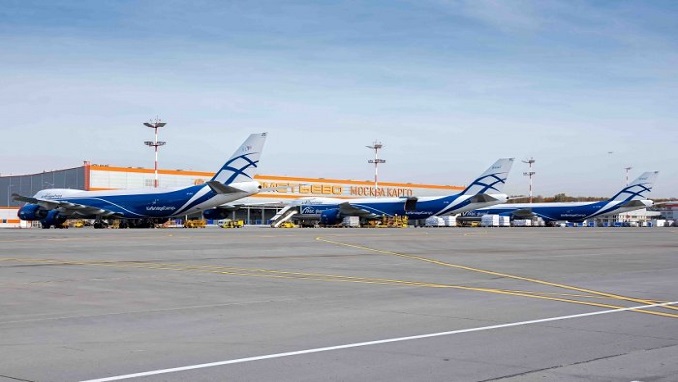 Sheremetyevo International Airport in cooperation with Sheremetyevo Customs conducted a media tour ahead of Russian Customs Day. The airport authorities presented the performance record for the first nine months of 2019 and the prospects for cooperation between Moscow Cargo LLC and Sheremetyevo Customs, the airport's press service said.
The purpose of beneficial cooperation between the airport and customs is to create favorable conditions for entities participating in foreign economic activity (FEA), as well as increase international cargo flow through Sheremetyevo.
According to the Federal Air Transport Agency of the Russian Federation, over the first nine months of 2019, Sheremetyevo Airport handled over 268,000 tons of cargo and mail, showing a 7.7% year-over-year growth and confirming its position as Russia's leading airport and the largest aviation cargo hub. 73.8% of this amount is international items subject to customs control.
The press tour was held on the premises of the terminal owned by Moscow Cargo, the main handling operator of the airport; the company is responsible for about 75% of cargo and postal turnover of Sheremetyevo. Speaking about the importance of beneficial cooperation with customs authorities and of electronic interaction development, Mikhail Chuvilkin, First Deputy General Director — Director of Production at Moscow Cargo LLC, said:
"Given that over 65% of the terminal turnover today consists of international cargo and mail, beneficial cooperation with Sheremetyevo customs is a necessary condition for attraction of new clients and increase in cargo turnover."
E-commerce goods draw special attention to customs and Moscow Cargo LLC. E-commerce is one of the most actively developing areas of the economy, and a distinctive feature of the Russian e-commerce market is the high popularity of purchases in foreign online stores. According to Mikhail Chuvilkin, 23.7% of the total volume of international air imports handled by Moscow Cargo's terminal are e-commerce cargoes, with their share constantly growing.
Considering the increasing demand for express services, the market dictates increasingly strict requirements for the handling speed and time of customs clearance. Responding to these requests, Moscow Cargo LLC and Sheremetyevo Customs pay much attention to the search and implementation of solutions aimed at reducing the processing time and simplifying the procedure of customs clearance for express cargoes.
"In March 2019, for the sake of convenience of foreign trade participants, including express carriers, a physical control post was placed directly on the premises of Moscow Cargo's terminal; the post carries out customs inspection, as well as registration of goods shipped by individuals and express cargoes. Thanks to the introduction of electronic declaration and document flow in regard of release of goods at Sheremetyevo customs, and considering the simplified procedure of customs declaration for express cargoes, provided there are no issues with documentation, and imported goods have been classified in the "risk-free" group, most items are now released on the same day they have been accepted," said Maksim Balandin, acting head of the cargo customs office at Sheremetyevo Airport.
Successful development of cooperation with Sheremetyevo Customs, active implementation of IT and electronic services, as well as targeted efforts to improve the quality of customer and airline services help ensure stable growth of cargo traffic at Sheremetyevo Airport. When combined, these factors allow the airport not only to maintain its position as the undisputed leader in the Russian air carriage market, but also strengthen its claim to being one of the most modern and dynamically developing air cargo hubs in Europe.