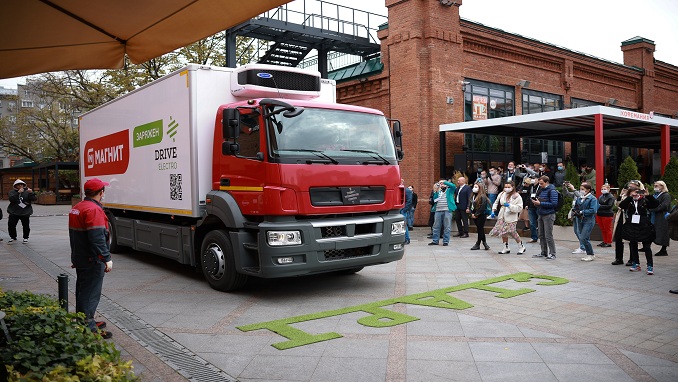 Drive Electro is going to present Russia's first medium-duty electric truck in the autumn of 2021, based on the chassis of the Japanese vehicle Isuzu ELF. According to the company, the production of the truck will be done at Drive Electro's plant, which will open next year.
The truck will be a medium-duty delivery vehicle for retailers and other transport companies, with a fully loaded weight of 9 tons, the company said in a press release.
The Russian electric truck will be manufactured on the basis of the Japanese vehicle Isuzu ELF. It will be the first medium-duty electric truck on the Russian market, with a range of around 200 km. Customers will be offered a 10-year life cycle contract that includes technical maintenance of the truck and provision of charging infrastructure.
The truck is now in its certification stage, and it will be the first product from Drive Electro's plant, which due for completion in May or June next year.
Afterwards, an experimental batch of the vehicles will be made. The annual capacity of Drive Electro's factory is 1,000 sets of batteries for electric buses. Additionally, a production of 500 electric trucks is also planned.
According to experts, there could be a great demand for a truck of this kind, as "Gruzovichkof" and IKEA have sought opportunities to switch their Russian logistics operations to electric vehicles but failed to find a suitable truck on the market.
Drive Electro already has experience of working with freight vehicles, as during September 2020, the company presented the first experimental model of Russia's first heavy-duty electric truck and handed it over for trial operation by a major food chain.