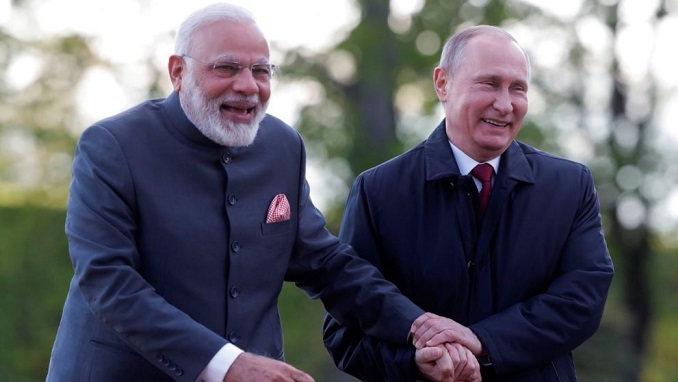 India will finally acquire the S-400 Triumf, the world's most lethal surface-to-air missile system, from Russia in spite of a threat of sanctions from the U.S., CNN reports.
The deal was signed between Prime Minister Narendra Modi and Russian President Vladimir Putin on Friday. Putin arrived in India on Thursday for a two-day visit and inked the deal amid repeated hints at tough sanctions from Washington against any nation that buys advanced military hardware from Russia.
Moscow has been an important supplier of defense hardware to India for decades.
"Russia has stood by India through time and has played a crucial role In India's growth story," India's PM Modi said in a joint address after the bilateral meeting with Putin.
"We have agreed to step up cooperation with India in combating the menace of terrorism and drug trafficking," said Putin, who is being accompanied by a high-level delegation comprising Deputy Prime Minister Yuri Borisov, Foreign Minister Sergey Lavrov, and Trade and Industry Minister Denis Manturov.
The S-400 is one of the world's most advanced long-range air defense systems. China was the first nation to buy the missile system in 2014. Russia has already started deliveries of an undisclosed number of S-400s to Beijing.
Other large trade deals have also been made during the India-Russia summit. On Friday, chemical industry giant Phosagro has struck a deal worth $1 billion to supply 2 million tons of fertilizer to India, the company said in a joint statement with Russia's RDIF sovereign wealth fund on Friday.  
According to the Economic Times, deliveries will take place between 2019 and 2021. 
In an agreement signed during a visit to India by Russian President Vladimir Putin on Friday, Phosagro and Indian Potash Ltd (IPL) along with RDIF also agreed to consider investment projects in the fertilizer sector, including the construction of infrastructure and technology.
Moscow-based Phosagro is a chemical holding company producing fertilizer, phosphates and feed phosphates. It is one of the world's biggest producers of phosphate-based fertilizers.  
Since 2016, Phosagro has supplied about 1.2 million tons of product to India. IPL is India's largest importer of mineral fertilizers.