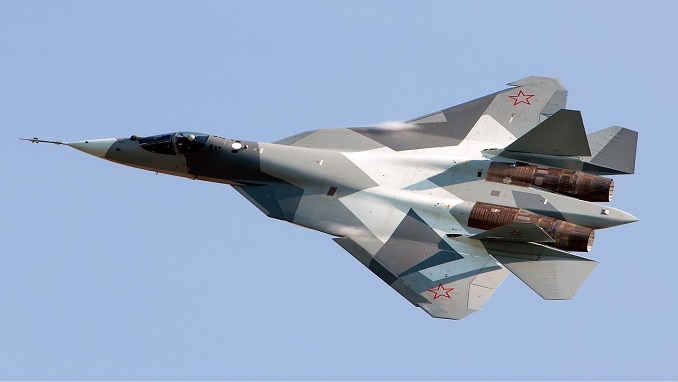 The Su-57, Russia's proposed entry into the world of fifth-generation stealth-fighter aircraft, would not see mass production, officials announced.
"The plane has proven to be very good, including in Syria, where it confirmed its performance and combat capabilities," Russian Deputy Defense Minister Yuri Borisov said on Russian TV, according to The Diplomat.
But despite Russia's nonstop praise for the plane and dubious claims about its abilities, Borisov said the Su-57 is considered to be one of the best aircrafts produced in the world. "Consequently, it does not make sense to speed up work on mass-producing the fifth-generation aircraft," he added.
One of the reasons why Russia is not pursuing mass production of the aircraft at this juncture most certainly has to do with the country's already overstretched defense budget, the report says.
The per-unit cost of a Su-57 is estimated to be around $40-45 million (or over 2.5 times cheaper than the U.S. F-35 Lightning II Joint Strike Fighter). Consequently, the Russian defense ministry is likely not to place an order beyond an initial pre-production batch of 12 Su-57 fighter jets. (As of this month, the ministry has still not signed a contract for the production of the first dozen aircraft.)
The Su-57 is a multirole, single seat, twin-engine air superiority/deep air support fighter developed under the PAK-FA fifth-generation fighter program. The fighter, which made its maiden flight in 2010, was originally designed to replace the Russian Air Force's existing stock of MiG-29s and Su-27s in the 2020s and 2030s. This plan appears to now have been put on hold.
Another reason why the aircraft is expected to enter serial production soon are multiple technical difficulties that still need to be overcome.
For example, the Russian military aviation industry still struggles with the aircraft's next-generation engine. A new engine purportedly called the Saturn Izdeliye 30 (purportedly featuring increased thrust and fuel efficiency and fitted with 3D thrust vectoring nozzles) is not expected to be ready for serial production until at least 2020.