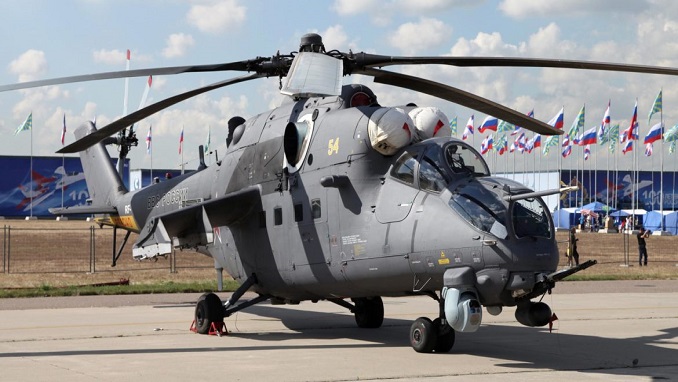 Russia and the African state of Niger have inked a contract for the supply of 12 Mi-35 attack helicopters at the Russia-Africa Summit in Sochi, Izvestia reports.
Niger's Foreign Minister Kalla Ankourao said the aircraft will be used to fight the Boko Haram terrorist organization in the country.
According to the minister, more than a hundred Nigerian military that are currently completing their studies at Russian military academies will probably prefer to work with Russian equipment when they return home for duty.
In September, Niger proposed to Russia cooperation in the construction of a transnational railway. The country is also interested in sending students to study in specialized transport universities in Russia.
Also on Wednesday, Russian President Vladimir Putin invited his Namibian counterpart Hage Gottfried Geingob to establish cooperation in the production of uranium fuel.
According to Putin, the development of mineral resources, particularly uranium resources, of Namibia could be an important part of the interaction in the energy sector.
"Russia ranks fifth in the world among producers of uranium raw materials. Russia, as a world leader in nuclear energy, nuclear fuel production, and Namibia, as the largest producer of uranium, could establish close cooperation and become good partners," the Russian president said at a meeting with his Namibian counterpart.
The Russia-Africa summit, which kicked off on Wednesday, has attracted over 3,000 representatives of African businesses. The two-day event is co-hosted by Russia and Egypt.