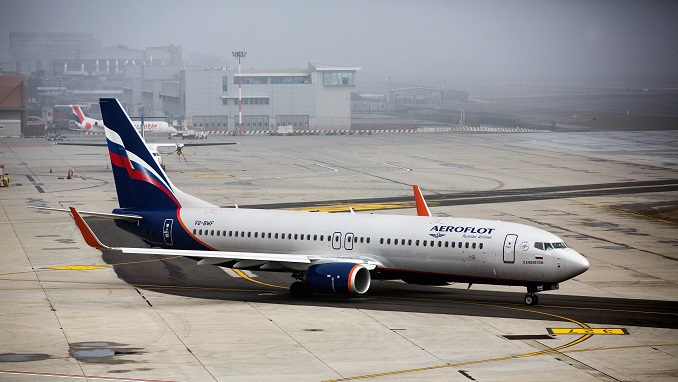 Experts and officials in Russia's Federal Air Transport Agency Rosaviatsiya are deciding whether to temporarily ground Sukhoi Superjet 100 (SSJ-100) aircraft after a preliminary analysis of the circumstances surrounding the accident at Moscow's Sheremetyevo Airport, which claimed 41 lives, Kommersant reported citing sources.
According to the newspaper's report, if relevant grounds are established, such a decision could be made as early as Monday.
A SSJ-100 passenger plane operated by Russia's national airline Aeroflot carrying 73 passengers and five crew members bound for Murmansk caught fire after emergency landing at Sheremetyevo shortly after takeoff on Sunday. For Aeroflot, that was the first accident resulting in loss of life since 2008.
Kommersant's source in Rosaviatsiya said the plane had returned to the airport after it lost communication with air traffic control.
The SSJ-100, lauded by Russian authorities as the country's replacement for Western-made passenger planes, is customarily considered to be a problematic aircraft because of frequent engine-related malfunctions and a long spare part delivery time.
Aeroflot is the largest SSJ 100 operator and has 50 SSJ-100s in its fleet (including the one that caught fire at Sheremetyevo). A source close to the aviation industry informed the paper that the plane manufactured in Komsomolsk-on-Amur had been delivered to Aeroflot in September 2017. He noted that it performed mainly short-distance flights, which lasted no longer than two hours.
"The accident can have an adverse effect on the reputation of the plane's operator and manufacturer, but the market will draw conclusions after the investigation," said Alexander Lanetsky, CEO of aviation consultancy Friendly Avia Support. The Federal Air Transport Agency's decision to restrict the operation of the SSJ aircraft, if it is made, will also be a signal for the industry, he added.