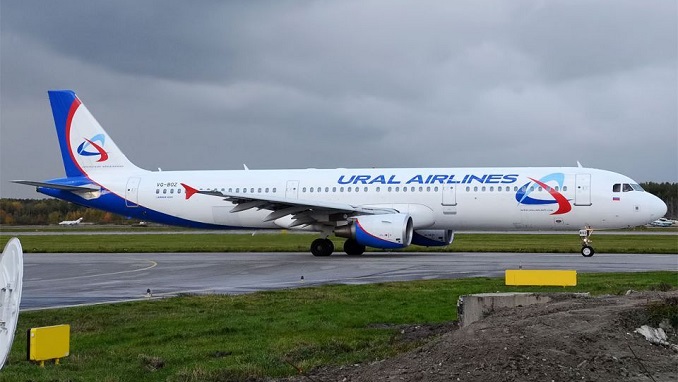 Russia's Ural Airlines said it cancelled flights between Moscow and Novosibirsk on Friday after the company's Airbus A321 crash landed in the Moscow region a day earlier, RIA Novosti reported.
Flight U6 100 from Domodedovo scheduled for 10:25 pm Moscow time on August 15 and Flight U6 99 from Novosibirsk scheduled for 8am local time on August 16, were cancelled.
"Ural Airlines flights between Domodedovo and Tolmachevo airports, scheduled for late Thursday and early Friday, were transferred to IrAero airline. The decision was made due to lack of aircraft after yesterday's crash landing in Moscow region," the press service said.
The press service added that the airline will take all necessary measures to fly passengers to their destinations and resume routine operation of flights.
An Ural Airlines Airbus A321 en route from Moscow to Simferopol made a belly landing near Zhukovsky International Airport on Thursday. According to the Federal Air Transport Agency, the plane struck a flock of birds shortly after take-off. Both of the aircraft's engines sucked in several birds and caught fire. There were 226 people aboard the aircraft, including 41 children.
The crew managed to land the plane in a cornfield and evacuate all passengers. According to medical sources, 76 people sought medical attention in the wake of the crash-landing. Currently, only one woman remains hospitalized.
After the incident, Ural Airlines' CEO Sergey Skuratov said the belly-landed Airbus A321 plane was fully operational prior to take-off. "We have a great maintenance center, we control every move of planes, therefore, we have no doubt it was fully operational. Although, they will definitely study it in the airline," he said.
The Ural Airlines will give a special bonus to the crew of the Airbus A321 plane. On Friday, President Vladimir Putin signed a decree to decorate the pilots and flight attendants with a high state honor – the "Hero of Russia" title. The crew received Orders of Courage.