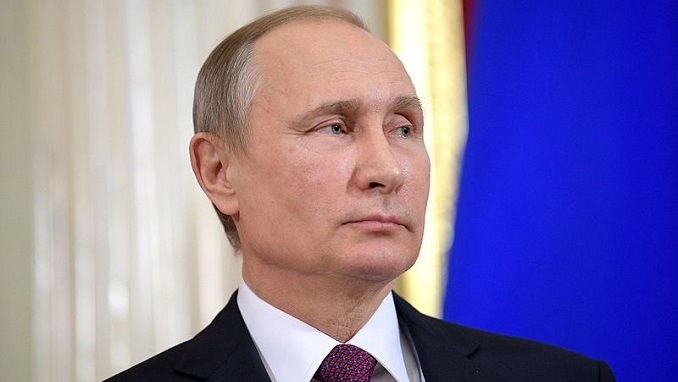 Russia is experiencing an unexpected boom in cheese production thanks to limits on EU food imports introduced by President Putin, NBC News reports.
Farmers are producing versions of foreign favorites such as camembert and brie while reviving traditional homegrown varieties that stopped being made a century ago.
One poster boy for the industry is Oleg Sirota, 30, a former computer programmer, who has made a special wheel of cheese like a German bergkäse for Putin, who served in Dresden as a KGB spy during the Cold War.
The cheesemaker wasn't always a supporter of the Russian president but plans to vote for him in the election scheduled for March 18. He credits Putin for helping to make his dreams come true.
The president blocked the import of European dairy products into Russia in retaliation for sanctions that followed the 2014 annexation of Ukraine's Crimean Peninsula. That created a market for high-quality cheese in a country where French, Italian or Swiss products were ubiquitous.
The sanctions war triggered a crackdown on smuggled cheese, with 470 tons of it being seized in one raid in 2015. Other contraband products were steamrolled or incinerated by Russian authorities.
Spotting a sudden gap in the market and convinced that naturally aged Russian cheese would be a hit, Sirota stopped working as a programmer and invested $300,000 in his project.
"I sold my apartment, car, and business, and borrowed money," said Sirota, who is in his 30s.
Many Russian farmers are likely to support Putin at the ballot box, according to Andrei Danilenko, chairman of Soyuzmoloko, the national dairy producers union.
"The farmers in the last 10 years have seen the results of increasing government support into the agricultural sector, and Putin has played a personal, significant role," he said. "The farmers today identify him as the person who's significantly improved their quality of life and their opportunities, so the agricultural sector is definitely a success story for President Putin."
The California-born Danilenko moved to Russia, the country of his parents, in the early 1990s after the collapse of the Soviet Union and started as a small farmer. In addition to representing dairy producers, he is also part-owner of a large agricultural company.
"The sanctions, in essence, stimulated us to take a much closer look at our own domestic production and most importantly take a careful look at efficiency," he said, adding that agriculture and food production are among the country's fastest-growing sectors. Russia was once the world's largest importer of grain but is now a record exporter.