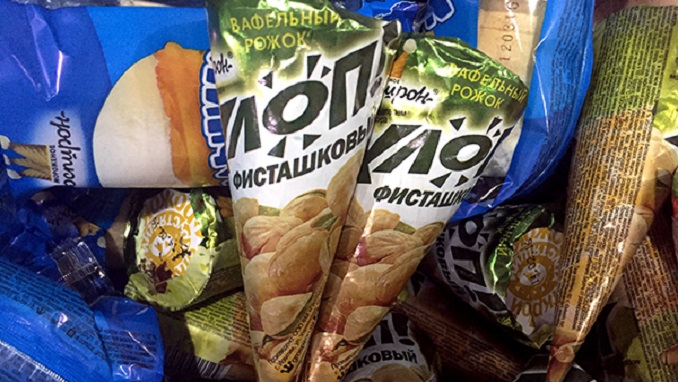 Selling Russian ice cream has been a lucrative business opportunity for many Chinese entrepreneurs since Russian President Vladimir Putin brought ice cream as a state gesture to the 2016 Group of 20 meeting in Hangzhou, the Global Times reports.
"More Chinese consumers have begun to show interest in Russian ice cream," Xiao Yu, who works at the Mandilai ice cream shop on The Bund in Shanghai, told the news outlet.
"If Shanghai's weather is warmer than usual, I am sure the sales of our ice cream will surpass that of 2017," said Xiao, whose shop focuses on the sales of Roctob ice cream from Russia.
According to Russian government officials recently cited by Komsomolskaya Pravda, Russian ice cream is experiencing brisk sales in China, part of an overall rise of 35% in trade turnover in food between the two countries.
Despite small-sized portions of ice cream being priced not-so-cheaply at 9.5 yuan ($1.51), or twice the price of locally produced counterparts, Chinese people are nevertheless buying it in bulk, the report said.
In another sign of the expansion of Russian ice cream in China, a number of Qing-Feng Steamed Dumpling Shops in Beijing have also started selling Roctob ice cream, which has proved to be a hit among their customers, according to media reports.
"Ice cream is just one product among a wide range of Russian agricultural products that are quickly gaining popularity among Chinese consumers. Russian flour, beer, and other foodstuff are all popular in China, and Russia has in recent years ramped up its agricultural exports to China, with such products accounting for a growing proportion among its exports," Song said.
Pavel Kudriavtsev, chief representative in eastern Asia (Beijing) with the Russian Chamber of Commerce & Industry, said Russian exports of ice cream to China surged 17.5 percent year-on-year in the first half of 2017, adding that the most popular imported brands include Russkii Holod, Marka, and ICE RUS, citing Russian customs data.
Roman Lola, CEO of Russian ice cream company Iceberry, told the Global Times that his company will sell over 15 million portions of ice cream in China in 2018, adding that the company is ready to double and even triple export volumes to the country.
"This is a very good start, but [the current supply] is very little for the large Chinese market, and not so big for our company. We sell the same amount over less than a week in Russia," Lola said.