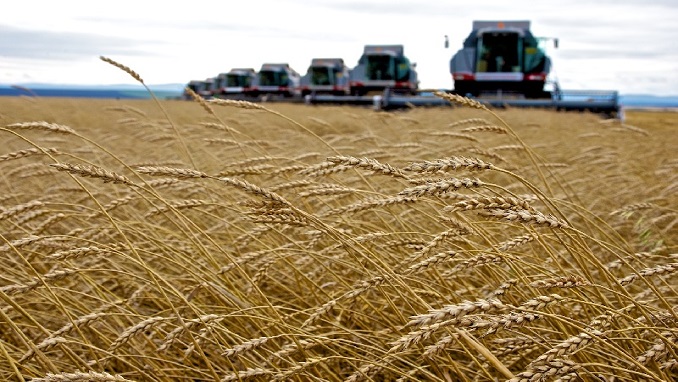 Russia's First Deputy Agriculture Minister Dzhambulat Khatuov says the ministry is satisfied with the condition of winter crops, with a grain harvest anticipated at 100 million tons, TASS news agency reported.
"The Russian agriculture ministry jointly with the Russian regions is monitoring the situation. As of today, we consider the condition of winter crops as satisfactory. A certain part of lands under winter crops, some one million out of 70 million hectares, however is in a risk zone. We hope that due measures will be taken.
Nevertheless, the overall percentage of losses after the winter, according to preliminary expert forecasts, will be within average," Khatuov said.
He added that Russian regions were generally prepared for the spring sowing campaign. "We see no threats to grain production and expect a harvest of at least 100 million tons, as it has been over the recent years," he added.
In 2017, Russia's grain production in terms of weight went up by 11.2% on 2016 and reached a record 134.1 million tons.
Russian food exports are skyrocketing thanks to the world's appetite for the country's wheat. Food shipments from the Black Sea nation jumped 25 percent last year, the most since 2012, to $19 billion, according to the Russian Export Center. The record amount was mostly due to exports of wheat and frozen fish, while sugar volumes also surged.
The world's top wheat shipper has been grabbing more of the market in recent years as it offloads bumper harvests at attractive prices, and exports are set to cap another record this season.
About half the world's countries buy wheat from Russia, which is trying to cut its dependence on agricultural imports after it banned purchases of some western foods in retaliation to sanctions.