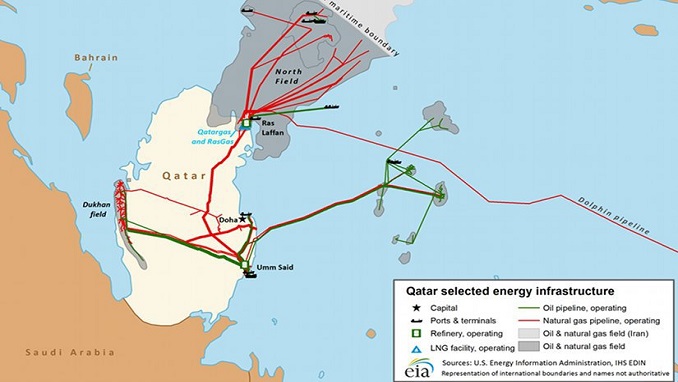 Russian companies should take part in tenders for the further development of gas fields in the Qatar, the Arab country's ambassador to Russia Fahad bin Mohammed Al-Attiyah said on Sunday, according to RIA news agency.
"The fields have been developed, but there is an addition or expansion [of deposits], which has been announced, and it will be conducted in 2019 and 2020. Russian companies, like others, can try to win a tender, which will be announced later," the Qatari ambassador said.
Russian President Vladimir Putin will meet the Emir of Qatar, Tamim bin Hamad Al Thani, in Moscow on Monday, the Kremlin said on Friday. They will discuss the development of Russian-Qatari relations, as well as international and regional issues, according to a Kremlin statement.
Russia is an ally of Qatar in the Middle East and supports its position in an ongoing rift with a group of countries led by Saudi Arabia and United Arab Emirates cut off political and trade links with Doha in June last year, initiating the Gulf's worst political crisis in years. The blockade has effectively isolated the small Arab nation, which turned to Russia and Turkey for elp.
Since last year, Qatar and Russia, which are two of the world's largest energy producers, vowed to increase trade ties at a time when the emirate is facing an economic boycott from neighboring states.
During the Emir's latest visit to Russia, the two countries also signed a technical military co-operation agreement, as well as a memorandum of understanding related to air defense and a legal contract on the general conditions of military supplies.