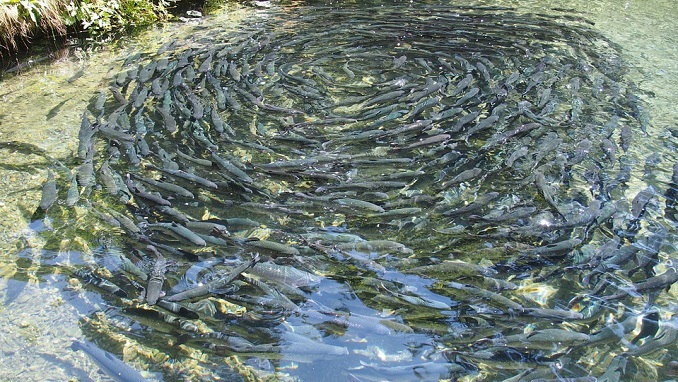 Russia's government and industry have jointly pursued the adoption of electronic seafood marketplaces in order to overcome vast distances between the country's largest seafood-producing region and its biggest consumer markets in the center of Russia, Seafood Source reports.
In 2013, Russian President Vladimir Putin ordered the launch of online trading for domestic seafood and in response, in 2014, the St. Petersburg Exchange and the Vladivostok-based Far Eastern Auction Fish House (FEAFH) united to establish a marketplace for conducting online auctions and exchange trading of seafood. In the current arrangement, the St. Petersburg Exchange is responsible for providing the trading infrastructure, while the FEAFH is in charge of running the commercial part of the business, finding and connecting suppliers and buyers, conducting quality control, and organizing trading operations.
The exchange significantly reduces paperwork and saves time, Sergey Lelyukhin, CEO of FEAFH, told Seafood Source. The exchange also ensures contracts are fulfilled – an important aspect of the markets given modern business practices in Russia, he said.
In 2016, amendments to Russian legislation were made to allow foreign companies to buy seafood through the St. Petersburg Exchange. In early 2017, the first deal of this type was closed, with South Korea-based Golden Eagle company purchasing 22 metric tons of fluke produced in the Primorye region of the Russian Far East for $2.15 USD per kilogram.
"E-trading of seafood allows for reducing the number of intermediaries, which must decrease prices for products on shelf," Ilya Shestakov, head of the Russia's Federal Agency for Fisheries, commented on the launch of trading in one of his public speeches. "We welcome the participation of retail chains on the exchange."
Since its launch, FEAFH has poured great efforts into promotion the marketplace home and abroad. It concluded agreements with a number of trade associations from China and South Korea.
"We are educating representatives of fisheries and retailers to get them qualified and interested in exchange trading, which is still [a] new and rather difficult area for [the] Russian seafood industry," Lelyukhin said.
In 2017, public online trading operations were demonstrated at The Eastern Economic Forum, a high-profile government-backed event designed to bring top officials from Russia and abroad and big business tycoons into discussions about the development of the Russian Far East.