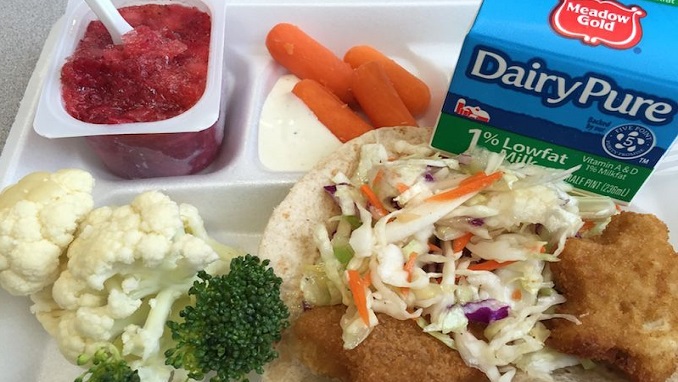 American pollock and tuna harvesters are concerned about this year's Farm Bill, after Alaska Republican senator Dan Sullivan has placed a provision that would force the U.S. Department of Agriculture (USDA) to more aggressively enforce the "buy American" rules required for schools to receive federal reimbursement for the meals they serve to children, including fish, Undercurrent News reports.
The Farm Bill is a massive, every-five-year U.S. legislation that helps, among other things, to preserve crop subsidies for American corn and soybean growers and nutrition programs for the unemployed. The provision is included in one of the two bills now being worked out in a congressional conference committee.
The U.S. pollock industry maintains that strapped-for-cash school systems aren't following those rules, resulting in some 60% of the pollock they serve to be what they claim is less expensive and inferior, twice-frozen fillets sourced originally from Russia.
They support Sullivan's change.
"We are mindful of the need to maximize the use of federal dollars in procuring fish products for school meal programs and for school districts to maximize available school lunch foods," said the At-sea Processors Association (APA), a group that represents six seafood companies that maintain interests in or operate 16 U.S.-flag, high-tech trawl catcher/processor vessels in the Alaska pollock fishery, in a recent statement.
Ironically, the 10% to 25% tariffs imposed by President Donald Trump's administration on some $200 billion in Chinese goods, including seafood that was reprocessed in China, could wind up making Russian pollock too expensive for American schools and rendering any debate over new "buy American" provisions at least temporarily moot, Undercurrent News wrote.
The U.S. Trade Representative (USTR) issued its final determination September 18 on how to proceed with the tariffs, setting a 10% tariff rate to go into effect on September 24 and a 25% rate on January 1, but seemingly exempting frozen fillets of U.S. pollock and cod from the new fees. An APA representative told the news outlet Tuesday that his group was still reviewing the action and not yet sure it plays to the advantage of U.S. producers, as Russian pollock might enjoy the same exemption.
Speaking at a conference in St. Petersburg, Russia, last week prior to USTR's most recent action, Fedor Kirsanov, CEO of the Russian Fishery Company, suggested that Trump's latest tariffs would make it more difficult for U.S. pollock to be sold into the Chinese market and give the Russians an advantage there.