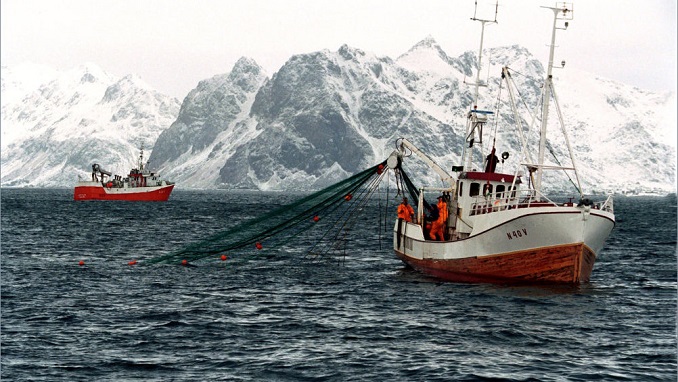 A U.S. seafood industry group is concerned that President Donald Trump's planned tariffs against Chinese goods will help their main global competitor, the Russian pollock industry, Undercurrent news reports.
Trump's administration is engaged in a trade war with China and plans to impose additional 10% to 25% tariffs on 6,031 Chinese goods worth $200 billion, including reprocessed pollock and a number of other seafood products. According to the At-Sea Processors Association (APA), the move would help the Russian pollock industry gain another edge over American producers.
"U.S. trade actions that rebound to adversely affect Alaska pollock producers often strengthen our principal competition, the Russian pollock fishery, which is Russia's largest fishery," Stephanie Madsen, APA's executive director, said in a letter sent to the United States Trade Representative (USTR) last month.
"Chinese tariffs on U.S. seafood products enhances opportunities in China for Russia pollock products and other seafood products, as well," the letter read.
An announcement is expected any day from the administration on whether it will proceed with the punitive fees it first proposed in July and if they will be as high as the 25% range advocated by the President himself.
If USTR does go forward with its initial 25% tariff on $200bn worth of Chinese products, U.S. businesses and consumers will pay a total of $62.5 billion annually to cover their costs, say 152 organizations, including the National Fisheries Institute and Maine Lobster Dealers Association, in a jointly issued letter. The letter is also signed by such food industry lobbying heavyweights as the National Restaurant Association, Grocery Manufacturers Association and the American Beverage Association.
APA represents six seafood companies that maintain interests in or operate 16 U.S.-flag, high-tech trawl catcher/processor vessels in the Alaska pollock fishery, Madsen said.
"While the EU and Japan remain significant markets for Alaska pollock fillet and surimi products, respectively, our $1 billion industry has been until recently making great strides marketing wild Alaska pollock in China," Madsen reported. "Chinese buyers have been increasingly seeking out our products over Asian-sourced, farm-raised whitefish alternatives."
However, she added: "If Chinese consumers continue to seek pollock but aren't willing to pay an additional 25% for U.S.-sourced product, the winner will likely be our principal global competitor, the Russian pollock industry, which produces inferior products, but has well-established connections with Chinese seafood processors."