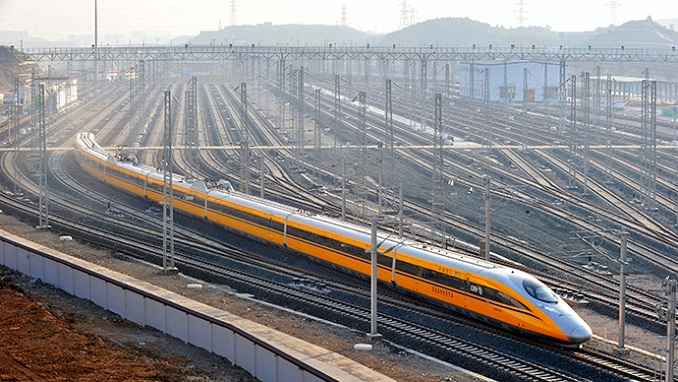 Construction of the Northern Latitudinal Railway (NLR) – a new railway line in Russia's Far North region of Yamalo-Nenets, will help in improving the region's transport and social situation, the Region's Acting Governor Dmitry Artyukhov has said, according to Sever-Press.
The region is home to Russia's largest liquid natural gas plant, Yamal LNG, which was opened last year. Earlier reports said the Russian government had ordered the railway would be built under a concession agreement.
"This is an event, we have been waiting for… this is a very important project for our people, who wanted to have a bridge across the Ob River," the official said.
"NLR's construction means development of the economy, and we shall be able to spend additional tax revenues for construction of new kindergartens, schools, sports complexes and other social infrastructures," Artyukhov added, naming concessions and public-private partnership "a most progressive form to implement such a capital-intensive project."
In October 2016, Russia's railway company, RZD, and government of the Yamalo-Nenets Autonomous Region agreed on the project to build the 686 km-long Northern Latitudinal Railway. The overall budget of the project is set at $3.4 billion.
"Construction of the Northern Latitudinal Railway will allow us to implement the tasks related to the development of the Russian Arctic, outlined by the president," Artyukhov added. "This railway line will be used in development of new deposits, it will reduce travel time and will make easier the logistics from West Siberia, taking a part of the cargo, which now is transported along the Trans-Siberian Railway."
Local construction companies will be involved in the project, according to the presidential envoy to the Urals Federal District Nikolai Tsukanov.
In the project, the local government will invest in the construction of a bridge across the Ob, the press service said. The bridge will connect Salekhard and Labytnangi and will cost around $122.7 million, authorities said. The construction's active phase will begin in 2019.
The new transport line will favor the region's complex economic and transport development. The existing transport infrastructure is not sufficient for planned exploration and development of natural deposits and for transportation of extracted materials. The railway will also connect the national transport systems via the Sabetta seaport with the Northern Sea Route.