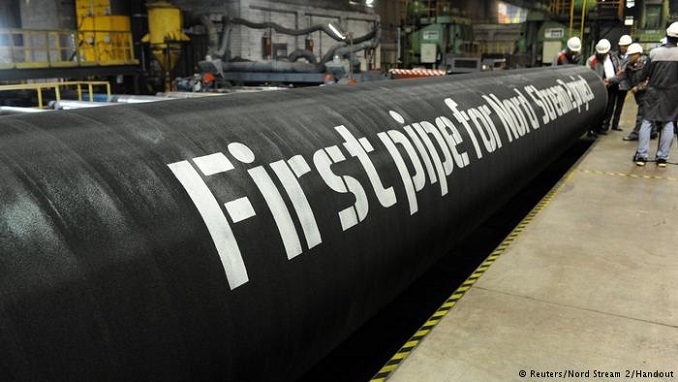 Under pressure from Washington, Copenhagen is deliberately delaying the issuance of a construction permit for the Nord Stream 2 project, two sources in Russian diplomatic circles told the Izvestya newspaper.
Denmark made special amendments to the legislation, which empower it to reject applications for the construction of pipelines in Danish territorial waters for reasons of foreign policy, national security, and the security of the EU and NATO. The country remains the last of five nations which hasn't issued a permit for Russia's energy project. The Nord Stream 2 operator still expects to receive it within the next few months, spokesperson Jens Muller told the newspaper.
"Denmark's main fears are perhaps not to disappoint its key ally, Washington, which twists its partners' arms to force Russian gas out of the European market and fill it with their LNG," a diplomatic source told Izvestya. "At the same time, Copenhagen fears spoiling relations with Berlin, which supports the construction of Nord Stream 2 as a commercial project. Denmark is caught between a rock and a hard place," the source added.
The Danish Ministry of Climate, Energy and Building told the paper that the application is being reviewed and analyzed under Danish law and that it is necessary to weigh the implications this has for the environment and security, as well as ensuring the project's conformity with state interests in foreign policy and defense. Last year, it was reported that the country could even pass a special law banning the project in its waters.
According to Nord Stream 2 AG spokesman Muller, the company still expects to receive an answer within the next several months. Four out of five countries have already given their permission to proceed, which covers 80% of the pipeline route. The Danish application was filed over a year ago, he added, noting that the route through Denmark is optimal in all respects.
A source in diplomatic circles told Izvestya that even if the Russian application is rejected, the construction of the Nord Stream 2 project would not be stopped. In this case, the pipeline route would be re-routed to the north of the Danish island of Bornholm, without affecting the territorial waters of Denmark.