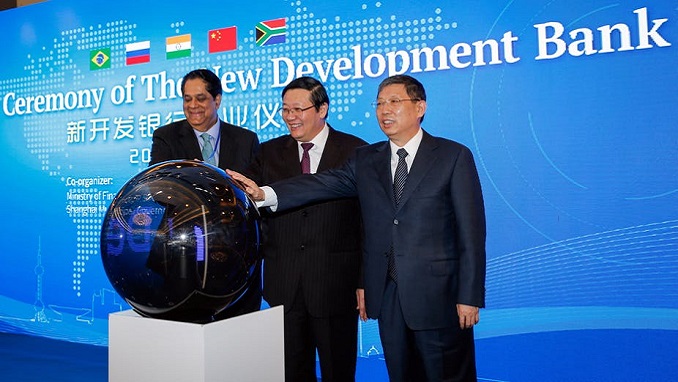 The Shanghai-based New Development Bank, established by the BRICS states (Brazil, Russia, India, China and South Africa), will finance five projects in Russia, Russian presidential aide Yuri Ushakov said on Tuesday.
"At the moment, the bank approved 21 projects totaling more than $5 billion. Five of these projects will be implemented in Russia," TASS agency quoted Ushakov as saying, without specifying the projects.
He added that the work of the New Development Bank is on the agenda of the first day of the BRICS Summit that will be held in South Africa on July 25-27.
"On Wednesday, the traditional session of the BRICS business forum will be held. There Russia will be represented by Economic Development Minister Maxim Oreshkin. The participants will hear reports on the work of the Business Council and the New Development Bank," the presidential aide said.
At the BRICS summit Russia will also be represented by the head of VEB (Vnesheconombank) Igor Shuvalov, Russian Railways' director Oleg Belozerov, the head of the Russian Direct Investment Fund (RDIF) Kirill Dmitriev, the CEO of Rostec state corporation Sergey Chemezov, and the President of the Chamber of Commerce and Industry Sergey Katyrin.
The agreement on establishing the BRICS New Development Bank was reached on July 15, 2014, in Brazil's Fortaleza. The bank's starting capital was set at $100 billion.
The Shanghai-headquartered bank has been set up to finance infrastructure projects and projects for the sustainable development of BRICS and other developing countries.