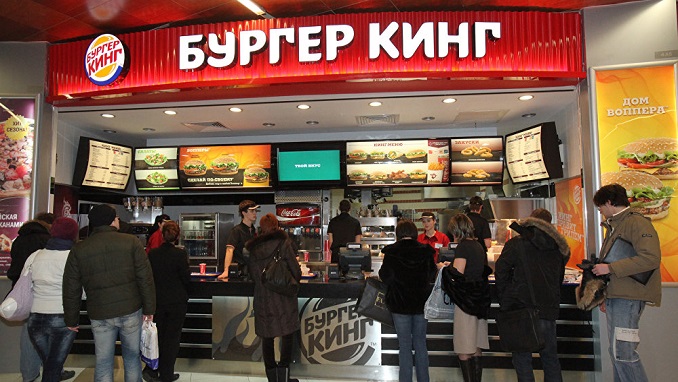 U.S.-based international fast food chain Burger King has become the most widely represented international brand in Russia, overtaking Adidas and Yves Rocher, which shared the first place last year, RBC reports.
According to analysts, this is due to the resilience of fast-food chains to crises and the optimization of space in fashion networks.
A study named Retail Destination Russia, prepared by investment management provider JLL, has looked at the presence of 250 international and Russian brands in all segments, with the exception of grocery stores, in 37 cities of Russia with a population of over 500,000 people. Burger King is present in 100% of the cities analyzed, the report said.
Last month, the company has teamed up with WebMoney Transfer to allow digital payments using an eWallet.
"The new payment method will attract the technologically advanced audience of the WebMoney Transfer system to the restaurants of the network, which actively uses the mobile application for everyday payments. Solutions for payment through the QR code are not related to the availability of POS terminals and do not require major technical improvements from the restaurant that will help business to reduce some costs, for example, for collection and acquiring," said the commercial director of WebMoney Transfer Andrei Smirnov.
In addition to Burger King, the top 50 of the most widely distributed foreign brands in Russia with coverage of more than 75% include KFC networks, which ranked third with 95% representation (previously 86%), and McDonald's (fifth place), which increased the prevalence from 77 to 89%. Baskin Robbins also significantly improved its position, which rose from the 13th line to the sixth (representation increased from 66 to 84%). Subway was the only brand of foreign catering that showed negative dynamics – its representation decreased from 91 to 84%, enough for sixth place on the list.