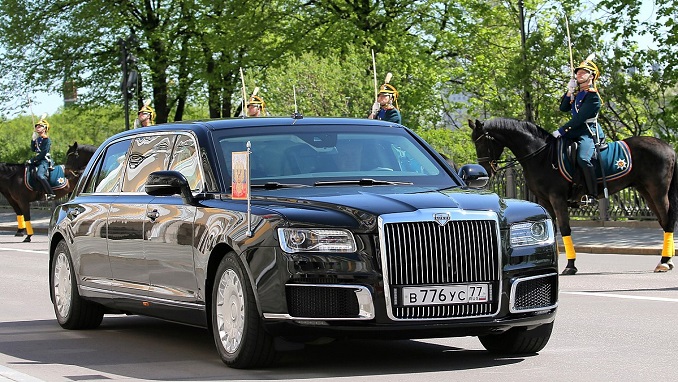 Sales of Russia's luxury limousine Aurus in the European market have been excellent and suppliers of the brand are provided with clients there for the next 3-4 years, Russia's Industry and Trade Minister Denis Manturov said in an interview for Rossiya-24 TV news channel on Thursday.
European dealers have shown keen interest in those cars, Manturov said.
"We already see keen interest from the side of potential dealers in the first place who want to sell the car in Europe. One can say that we are not going to have any problems with clients in Europe in the next 3, and maybe even 4 years," he said.
Earlier Manturov said that Europe and Middle East are priority export markets for Aurus cars. European clients will be able to buy Aurus after 2021 once full-scale production is launched in Russia's Tatarstan, he added.
The Aurus had its European premiere this week at the Geneva International Motor Show. According to Motor1, the car is visually reminiscent of Rolls-Royce and Bentley, though the news outlet notes that the S600 moniker is more than coincidentally similar to Mercedes-Benz.
Two versions of the Senat are featured in Geneva, including the bigger L700 limo. The armored vehicle weighs nearly seven tons. The non-armored Aurus Senat S600 sedan, measures exactly one meter (3.2 feet) shorter.
Powering both vehicles is a hybrid system consisting of a 4.4-liter V8 gasoline engine with the support of an electric motor, using an intelligent all-wheel-drive arrangement to get power onto the pavement. And there is some significant power – 598 horsepower (446 kilowatts) to be specific, which goes through a nine-speed automatic that doesn't require a torque converter. As such, the big Senat S600 takes just six seconds to reach 100 km/h (62 mph), with the massive armor-plated L700 doing the same sprint in a respectable nine seconds.