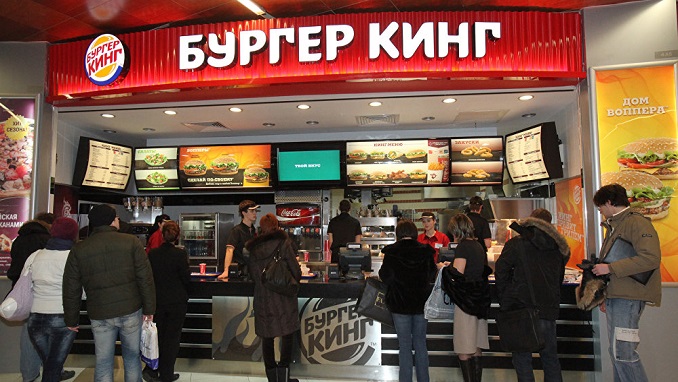 The Russian arm of global fast food chain Burger King is planning to hold an initiative public offering (IPO) at the Moscow Exchange this year, two investment bankers familiar with the potential organizers of the deal told Vedomosti.
A source close to one of the co-owners of Burger King Russia claims that the deal's structure and its parameters have not yet been determined. According to Vedomosti, the fast food segment is growing at the fastest pace and while not yet represented on the Russian stock market.
According to the business newspaper's sources, VTB Capital, J.P.Morgan and Morgan Stanley are among the organizers of the IPO.
There has not been an initial public offering on the Russian stock market in more than a year. Road carrier company Globaltruck held the last IPO on the Moscow Exchange back in November 2017.
This year, the situation is favorable for a share placement, according to Alduat Kharin, portfolio manager at Alfa-Capital. He says that oil and the ruble are becoming more expensive, the United States has not tightened sanctions against Russia and there are no statements about new restrictions. Foreign investors have started to return to the Russian market, and they are key buyers of Russian stocks, Kharin added.
Fast-food companies are not represented on the Russian stock market, despite the turnover of the Russian food services market in 2018 amounting to almost $24 billion, according to official data. Thus, Burger King shares may be interesting for investors, Kharin said. Ultimately, however, demand will depend on the price. For the Russian stock market, the fast food segment is new, so it could become a good alternative to food retailers, Aton analyst Viktor Dima told the newspaper.
Mikhail Burmistrov, CEO of Infoline-Analytics, believes that Burger King Russia is an attractive asset but still too small for an IPO. Even by the end of 2019, the company's revenue, according to his forecast, will not exceed 50 billion rubles ($783.34 million) without VAT. The expert estimates the company's value at around 34-37 billion rubles ($533-580 million) including debt.