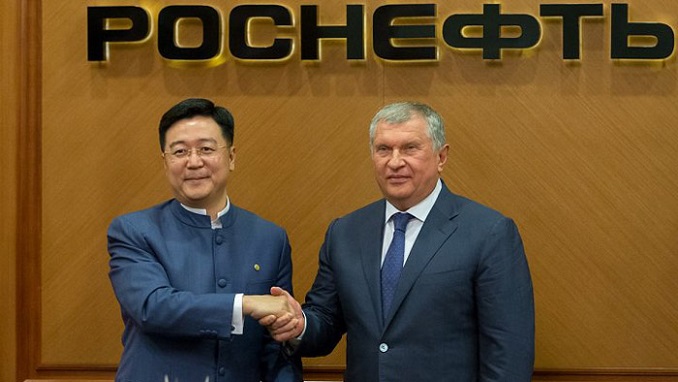 A Chinese energy conglomerate is still trying to buy a stake in Russia's state-owned oil giant Rosneft, despite a recent setback involving finances, two sources familiar with the matter told Moscow business newspaper Vedomosti.
March 31 was the deadline for China's CEFC conglomerate to transfer its 20% sum to Qatar's QIA investment fund and Glencore (nearly $1.8 billion) to wrap up its planned purchase of the 14.16% stake in Russia's Rosneft.
The deal is still on the cards, the sources said. According to one of them, "several days ago China made a decision at the highest level to go ahead and close the deal." A source close to another party confirmed that "all participants of the process decided to wrap up the deal."
According to expectations, the Chinese conglomerate is supposed to shell out another $7.3 billion by late September 2018, a source close to a party of the deal told the paper.
The parties agreed to extend the deadline for the first transaction by another 10 days, both sources said. However, one of them noted it was highly likely that CEFC would not meet the deadline. The seller is in no hurry to make the deal, the second source said.
Meanwhile, Glencore and QIA have already found another promising buyer in case the Chinese do not buy the 14.16% stake in Rosneft, a source close to one of the companies said, giving no further details.
The President of the Russian-Chinese Analytical Center, Sergei Sanakoyev, doubts that the deal will be closed in its current form since the Chinese government had not authorized it from the very beginning.
If the deal is closed, CEFC may become a good strategic partner for the Russian company, which needs investment in oil extraction, said Andrey Polischuk, a Raiffeisenbank analyst.
On March 1, CEFC's founder and owner, Ye Jianming was detained by Chinese police for questioning over suspected economic crimes. A few weeks later, Jianming stepped down from his position, while CEFC reportedly planned to sell its entire global property portfolio with a book value of more than 20 billion yuan ($3.2 billion).