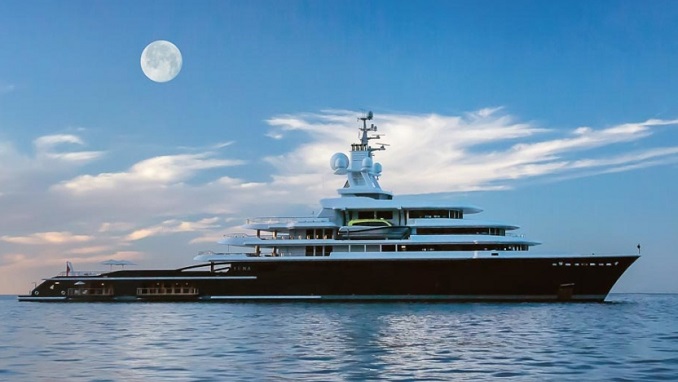 A luxury yacht worth more than half a billion dollars, that was once the prized possession of Chelsea owner Roman Abramovich, has been impounded in the United Arab Emirates in one of the world's costliest divorce battles, Reuters reported.
The nine-deck $540 million vessel, called the Luna, has been seized in Dubai, with billionaire Farkhad Akhmedov and his ex-wife Tatiana Mikhavilovna Akhmedova fighting for control of the asset.
It follows a British court ruling that Akhmedov owes his ex-spouse $567 million and as she seeks his global assets to get her share of the settlement. She claims that he has been hiding his money to avoid paying her.
Court documents show that the family trust of Russian billionaire Farkad Akhmedov won the right of appeal on Tuesday against the impounding of the nine-decker Luna that boasts two helipads and the world's largest swimming pool on a superyacht.
The Dubai International Financial Centre (DIFC) Courts allowed the trust, Straight Establishment, to appeal for the release of the vessel by Dubai authorities, according to the documents seen by Reuters.
Akhmedov, an oil and gas tycoon, has a net worth of $1.4 billion, according to Forbes. In August last year, the U.S. Treasury Department put him on a list of sanctioned Russian state-owned companies and so-called "oligarchs", identified as close to President Vladimir Putin.
The 377-foot vessel can host 18 guests and 50 crew and was originally built for Abramovich who is a close friend of Akhmedov and from whom he bought the vessel in 2014.