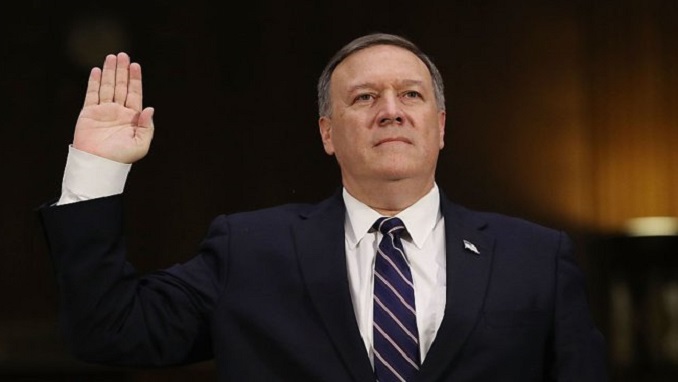 President Donald Trump's nominee for secretary of state, CIA Director Mike Pompeo, says he wants to "reset" the "deterrence relationship" with Russia, signaling a harder approach toward Moscow, ABC News reports.
Speaking on Thursday during his Senate confirmation hearing, he also revealed that he had been interviewed by the U.S. special counsel investigating interactions between Trump's associates and Russian officials.
Trump nominated Pompeo to become the top U.S. diplomat after firing Rex Tillerson, whose tenure at the State Department was marked by personnel tumult and clashes with the president over foreign-policy priorities.
During his appearance, Pompeo was pressed by Republican and Democratic senators on his positions regarding Russia, the Iran nuclear deal, North Korea, climate change, and other major foreign-policy issues.
Pompeo, who is known to support tougher action against Russia, defended Trump's approach to Moscow, and what critics have asserted is his unwillingness to challenge Russian President Vladimir Putin directly.
Pompeo listed some of the punitive actions the administration had taken: expulsion of diplomats, new sanctions targeted top Russian business and political officials, and the development of new nuclear weapons and tactics.
"We need to push back in each place we confront them," he said. "Each of those tools that Vladimir Putin is using, we need to do our best to make sure he doesn't succeed."
In prepared remarks released ahead of his appearance, Pompeo said he would seek a tougher approach toward Russia.
"Russia continues to act aggressively, enabled by years of soft policy towards that aggression," he said. "That's now over."
He added: "The actions of this administration make clear that President Trump's National Security Strategy, rightfully, has identified Russia as a danger to our country."
Pompeo also confirmed for the first time publicly that he had been interviewed by special counsel Robert Mueller, as part of his investigation of interactions between Russian officials and Trump's associates. Trump has repeatedly slammed Mueller's efforts, at times threatening to fire him and calling the probe a "witch hunt."