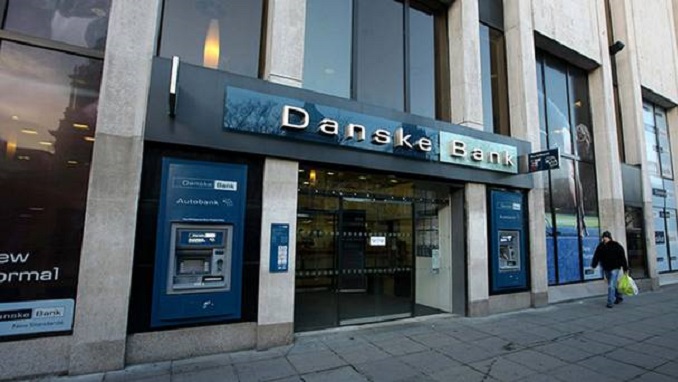 The world's largest collective of investigative journalists, the Organized Crime and Corruption Reporting Project (OCCRP), has named the massive Danske Bank scandal, in which the Danish bank enabled the laundering of hundreds of billions of dollars, as the top crime of the year, the organization said.
Danske Bank has been awarded the undesirable 2019 Corrupt Actor of the Year award, OCCRP said, for the $200 billion scheme of laundering Russian and Eastern European funds through a network of banks and offshore accounts.
A whistleblower revealed that the bank's Estonian branch was involved in allowing billions of dollars to be laundered over the past decade. Earlier this year, European Union Justice Commissioner Vera Jourova described the money-laundering case involving Danske Bank as "the biggest scandal in Europe," while The Guardian described it as involving "32 currencies, companies from Cyprus, the British Virgin Islands and the Seychelles."
Most of the payments came from Estonia, Russia, Latvia and Cyprus and Britain, and shell companies were used to disguise the identities of those involved, the report said.
"Danske Bank is a worthy recipient of this prize. It highlights the role of the criminal services industry in enabling international corruption and crime," said OCCRP co-founder and editor Drew Sullivan. The term "criminal services" refers to the banks, law firms, registration agents, accountants, and others who help criminals and corrupt officials hide their assets and legitimize their operations.
"In the past 20 years, they've globalized organized crime and autocracy and helped everyone from Mexican drug cartels to Russian President Vladimir Putin to terrorists, autocrats, and almost every global threat," he said. Sullivan was one of nine judges who made the final selection. Nominations were submitted by journalists and the public.
An OCCRP investigation named "The Russian Laundromat" earlier revealed that $20 billion to $80 billion was fraudulently moved out of Russia through a network of global banks that included Danske. According to proven transactions, more than $20.8 billion was taken out of Russia and laundered, while some of the world's largest banks failed to shut the scheme down.