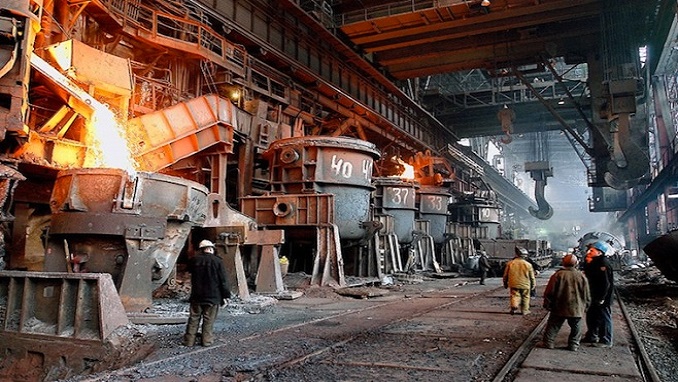 Shares of Russia's steel manufacturer Evraz went up by 7.05% in London trading on Monday to $535.8 after Fitch Ratings upgraded the company's ratings to 'BB' from 'BB-', TASS reported.
The rating agency said on Monday that the upgrade reflects Evraz's successful reduction of its net debt to $4 billion. The outlook for the company is stable, Fitch said.
Evraz is one of the biggest vertically integrated steel and mining companies with assets in the Russian Federation, the United States, Canada, the Czech Republic, Italy, and Kazakhstan. In 2017, its output equaled 14 million tons of steel.
The company's main beneficiaries are Roman Abramovich (30.5%), Alexander Abramov (20.9%), Alexander Frolov (10.45%), Gennady Kozovoy (5.8%), Alexander Vagin (5.7%), and Eugene Shvidler (3.03%).
Last week, Evraz was subject to complaints by American steelmakers, who asked the U.S. administration to impose tariffs on the Russian company's imports.
According to filings with the U.S. Bureau of Industry and Security (BIS), three U.S. steel mills: Nucor, U.S. Steel, and AK Steel, are objecting to a request made by Russia's Evraz to exempt Russian steel slab imports from the United States' Section 232 tariffs.
Evraz NA initially requested that some 1.1 million tons of Russian slabs be exempt from 25% Section 232 steel duties in filings starting on Tuesday, April 24. Commerce has 90 days from the initial request to grant or deny the exemption, which puts a decision close to July 23.
In March, President Donald Trump signed a pair of proclamations setting new tariffs on steel and aluminum imports, which initially spared America's closest allies. The European Union, Canada, Mexico and other allies, however, were still targeted on June 1, when their temporary exemption status expired.