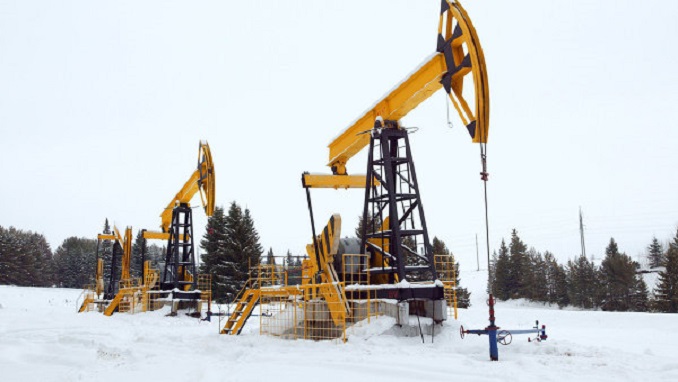 Oil prices rose for a second day on Tuesday and volatility subsided to its lowest in three weeks, Reuters reports.
As investors were preparing for a key meeting of the OPEC producer group next week, crude remained in a tight trading range, in line with the broader financial markets, which were largely unruffled by a U.S.-North Korea summit aimed at denuclearization of the Korean peninsula.
Brent crude futures (LCOc1) were up 17 cents at $76.63 a barrel by 0855 GMT, while U.S. West Texas Intermediate crude futures (CLc1) rose 11 cents to $66.21.
Saudi Arabia and Russia are trying to garner support for lifting production limits, while Iraq joined Venezuela and Iran in opposing the proposal. Meanwhile, Trump and Kim pledged to work toward complete denuclearization of the Korean peninsula at the end of a historic summit aimed at easing tensions between the two longtime adversaries.
The OPEC meeting in Vienna later this month is seen as crucial for the movement of oil prices, as decisions are to be made about an ongoing production cuts agreement. The deal includes Russia as a non-OPEC member, but the country has recently exceeded its production quota under the agreement, sparking dissent in some OPEC members.
Iraq "rejects unilateral decisions made by some producers which do not consult with the rest," Oil Minister Jabbar al-Luaibi said in a statement. The remarks came after Iran and Venezuela — both subject to U.S. sanctions — wrote to OPEC members urging them to unite against pressure from America to ease the curbs.
Alexander Dyukov, the head of Russian energy company Gazprom Neft, said on Saturday that his company is ready to hike crude oil production if the global deal on oil production cuts is modified.
"It is obvious now that the (production) quotas should be revised, the quotas should be increased, this will be beneficial both for producers and consumers," Dyukov said after an annual general meeting.
"We believe that the time has come that it makes sense to keep the deal in place but be more flexible on quotas," Dyukov said.