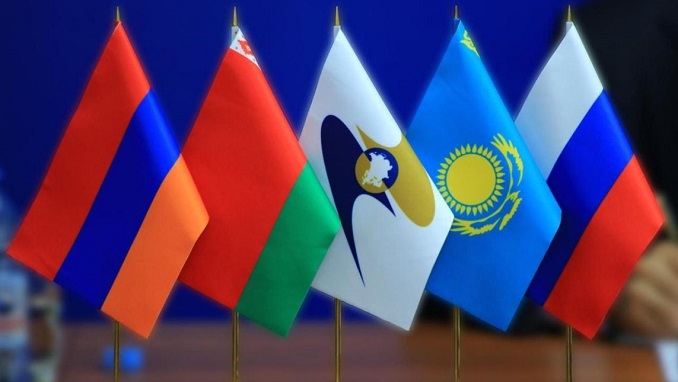 The Eurasian Economic Union (EAEU), a Russia-led political and economic association of former Soviet countries, may introduce a common currency into their transaction system, Izvestya reports.
The Russian Finance Ministry has approved an early initiative put forward by the country's National Payment Council, Deputy Finance Minister Alexei Moiseyev told the daily newspaper.
The common EAEU currency will be a digital one, according to Alma Obayeva, who heads the National Payment Council Board. Obayeva says the new tool will consist of payment obligations that EAEU countries owe each other in trade.
The common currency's exchange rate will depend on the mutual exchange rates of EAEU member states' national currencies, as well as on each country's contribution to the Union's overall trade, Obayeva said, while noting that a number of big Russian banks and corporations have expressed interest in the creation of a unified means of payment.
Historic examples of the creation of single non-cash currencies for settlements within the framework of interstate associations include the artificial ECU currency used for trade between the EU countries. In 1999, the ECU was completely replaced by the euro, which became a fiat currency in the Eurozone.
The EAEU is a political and economic union of states located in central and northern Eurasia. Last week, leaders of its member countries signed an agreement of the formation of a free trade zone between the EAEU and Iran. The meeting, which was chaired by Russian President Vladimir Putin, was also attended by presidents of Belarus, Kazakhstan, and Kyrgyzstan, as well as the Armenian prime minister.