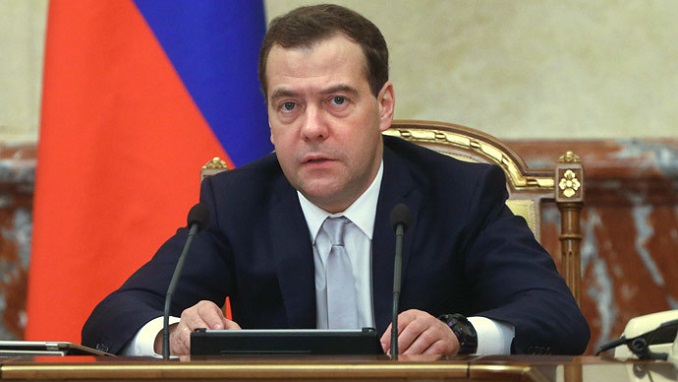 Russian Prime Minister Dmitry Medvedev has presented President Vladimir Putin with a list of people he selected to appoint as ministers in the new government created after the recent inauguration of the president. The list was approved by Putin, The Washington Post reported.
Finance Minister Anton Siluanov retained his post and was also promoted to hold the post of first deputy prime minister. The list of Medvedev's deputy prime ministers also includes: Tatyana Golikova — social policy and healthcare, Olga Golodets — culture and sports, Vitaly Mutko — construction and regional policy, Dmitry Kozak — industry and energy, Yuri Borisov — the defense industry complex, Alexey Gordeyev — agriculture, Maxim Akimov — transportation, communications, and the digital economy, Konstantin Chiuchenko — chief of Medvedev's staff.
Medvedev suggested appointing Yamalo-Nenets Region Governor Dmitry Kobylkin as Minister of Natural Resources, Chief Executive Officer of the Russian Agricultural Bank Dmitry Patrushev as Minister of Agriculture, Tyumen Region Governor Vladimir Yakushev as Minister of Construction, Housing and Utilities, deputy head of Presidential Directorate for Interregional Relations and Cultural Contacts with Foreign Countries Sergei Chebotarev as Minister of the North Caucasus Affairs.
Yevgeny Zinichev, Deputy director of the Russian Federal Security Service (FSB), is nominated to be emergencies minister. Medvedev has suggested appointing Olga Vasilyeva Minister of Education and Mikhail Kotyukov – Minister of Science and Higher Education, Alexander Kozlov – Minister for development of the Far East, Konstantin Noskov – Minister of Communications. Evgeny Ditrikh has been nominated to Transport Minister's office.
Foreign Minister Sergey Lavrov, Defense Minister Sergei Shoigu, Finance Minister Anton Siluanov, Interior Minister Vladimir Kolokoltsev, Labor and Social Protection Minister Maxim Topilin, Health Minister Veronika Skvortsova, Industry and Trade Minister Denis Manturov, Economics Minister Maxim Oreshkin, Energy Minister Alexander Novak, Minister of Justice Alexander Konovalov, Minister of Culture Vladimir Medinsky, Sports Minister Pavel Kolobkov are staying.
Igor Shuvalov, Arkady Dvorkovich, Dmitry Rogozin, Alexander Khloponin and Sergei Prikhodko, who served as deputy prime ministers, are not in the new Cabinet.
The new cabinet has 22 ministerial posts instead of 21, as the Ministry of Education and Science was split into its two constituent parts. The Ministry of Telecommunications, which oversees the digital sector of the economy and the mass media, will be transformed into the Ministry of Digital Development. In addition, Russian trade missions abroad were transferred from the Ministry of Economic Development to the Ministry of Industry and Trade, in a bid to boost exports.