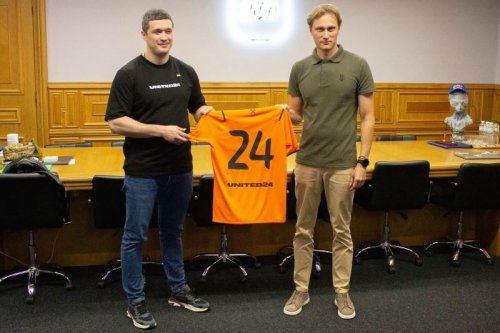 Through the use of the government platform UNITED24, the Ukrainian Ministry of Digital Transformation and FC Shakhtar signed a Memorandum of Cooperation to support the Ukrainian people in their struggle against Russian aggression and in dealing with its effects, a press release states.
Within the framework of the Memorandum, FC Shakhtar will participate as a partner of the UNITED24 fundraising platform in order to raise money for Ukraine. The club specifically plans to help with fund-raising in the USA and send the money to UNITED24's official accounts, assist with platform promotion on a global scale, engage the international community in cooperation with and support for Ukrainians, and make the fight against Russian aggression and countering misinformation more widely known.
Pitch In For Ukraine will be the first project included in the Memorandum of Cooperation with the Ministry of Digital Transformation. Football enthusiasts from all over the world will be able to donate through this effort in support of Ukrainians. Additionally, it has been agreed that for the 2022–2023 UEFA Champions League group stage matches, the Shakhtar player uniform would bear the UNITED24 emblem.