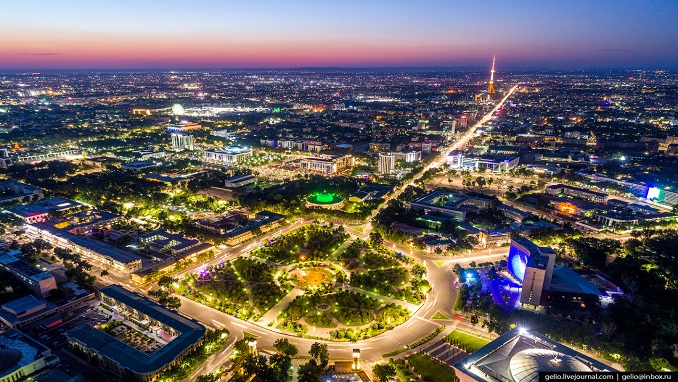 Uzbekistan may very well be the best under-the-radar investment story in the world today. But the transformation spearheaded by the country's new president, Shavkat Mirziyoyev, from socialism to capitalism should put the $50 billion economy on investors radar screens, Forbes writes.
The country is famous for the ancient cities of Samarkand and Tashkent, which were part of the old Silk Road. The cities, which are connected by a 344-kilometer high speed rail, play an important role in global trade amid the escalating China-U.S. trade war. Uzbekistan is building a $1.7 billion international business and financial hub in Tashkent. The project includes an industrial park, eight business centers, a shopping mall, restaurants and a cultural center, as well as residential apartments on a 70-hectare site.
Under the leadership of Mirziyoyev, who took the helm in 2016 following the death of former president Islam Karimov, Uzbekistan is now among the world's fastest-growing economies. In just over two years, Uzbekistan has transitioned from an economic and social pariah to a free market economy. Mirziyoyev floated the exchange range, lifted capital controls and embarked on a privatization initiative to sell off the government's interests in non-strategic businesses. Following such reforms, tourist arrivals more than double in 2018 and foreign direct investments increased four-fold in the first half of 2019 compared to a year ago, government data showed.
While most of the Western world is overleveraged, Uzbekistan is under leveraged with a total debt to GDP ratio of 19.8%. In February, Uzbekistan raised $1 billion from its maiden international bond sale. Priced with a yield of 5.375%, the 10-year bond now trades at $110 and the yield has fallen to 4%. Uzbekistan is rated three levels below investment grade at BB- at S&P Global Ratings and Fitch Ratings, the same as Bolivia, Brazil and Bangladesh.
Uzbekistan is also attractive to investors because the country's rich in natural resources such as gas, gold and other metals. It is also one of the world's leading exporters of cotton, Forbes adds.