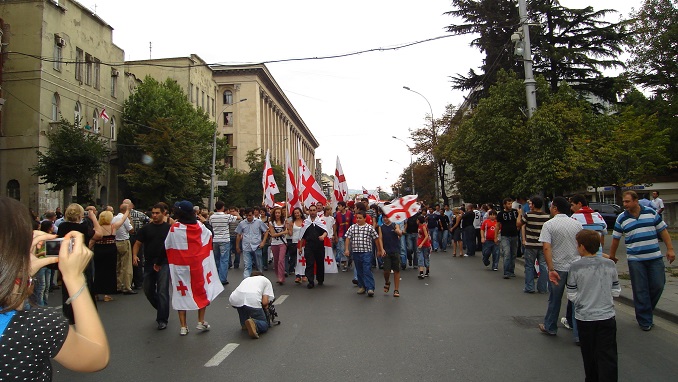 As anti-Russian and anti-government protests continue in Georgia's capital Tbilisi, Moscow's decision to suspend flights with the Caucasus neighbor and the closing of the door for Russian tourists will hurt the Georgian economy, analysts told Kommersant.
The new crisis in Russian-Georgian relations could undermine Georgia's economy, according to Georgian experts consulted by the business newspaper. Authorities will hardly be able to reduce the damage from Russia's sanctions, which have been or could be introduced in the future, the analysts said.
Meanwhile, Russian experts call Moscow's move "a scathing rebuke," which should serve as a warning to other former Soviet republics, where anti-Russian sentiment is riding high, Kommersant writes.
The Georgian leadership has tried to backtrack and prevent the collapse of the country's tourism market, but the moves have come up against a harsh response from Moscow. The Kremlin's ban on flights to Georgia and the moratorium on selling travel tours because of the ongoing political protests in Tbilisi will force more than 150,000 Russians to cancel their trips to the country, while airlines will have to pay compensation to passengers to the tune of nearly 3 billion rubles ($48 million).
"Tens of thousands of families will be affected, whose members are involved in the tourism business this way or another," political scientist Pyotr Mamradze told Kommersant. If Russia decides to target Georgian exports, the damage could exceed $1 billion and affect hundreds of thousands of citizens, he noted. "All this is the result of our authorities' incompetence as they failed to predict simple things," Mamradze stressed.
Russian experts believe that after this "scathing rebuke," Moscow may reverse the course when the riots in Tbilisi peter out. "Georgian politicians and their supporters, who have been taking to the streets these days, continue playing "the Russian card" in a struggle for power. However, we can definitely say that after the war in August 2008 anti-Russian sentiment in Georgian society did not become overwhelming," said  Alexey Malashenko, Chief Researcher at the Dialogue of Civilizations Institute in Moscow.
The current crisis was created artificially: this is the result of several mistakes on both sides, made when organizing and conducting the visit to Tbilisi by State Duma MP Sergei Gavrilov, he says. "The country's authorities, who are not interested in mounting tensions with Moscow, which may end up with millions in losses, have just failed to deal with the situation."
Meanwhile, Moscow's steps should serve as a lesson and a warning for Ukraine, Moldova and the entire post-Soviet space, where there are Russophobic forces, which are ready to act. However, returning to years-long confrontation neither meets the interests of Tbilisi nor Moscow, Malashenko noted.