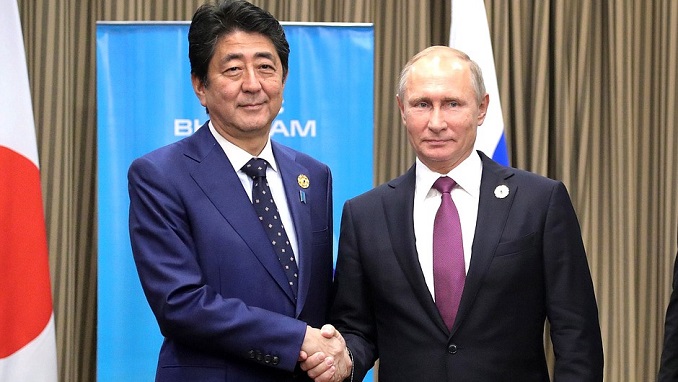 The economic ministers of Russia and Japan agreed Thursday to cooperate more in increasing productivity using information technology, ahead of a summit expected in May, Kyodo News reported.
The economic cooperation package proposed by Prime Minister Shinzo Abe in 2016 was an "important cornerstone of Japan-Russian ties," said Japan's Economy, Trade and Industry Minister Hiroshige Seko during a meeting with his counterpart Maxim Oreshkin in Tokyo.
"We have agreed to provide support for the individual projects leading to the planned summit" between Abe and President Vladimir Putin, Seko said in a press conference after their talks. Seko doubles as minister for economic cooperation with Russia.
Abe is likely to meet Putin when he is expected to attend an economic forum in St. Petersburg in May. Oreshkin hailed progress in the talks on bilateral cooperation, saying at the press conference that the two countries will act on the matters discussed.
It was the second working group gathering involving high-level officials from the relevant ministries of both countries, following the inaugural one in November 2016 in Moscow.
Tokyo has sought to bolster economic ties with Moscow based on an eight-point package in an attempt to create a favorable environment to settle a territorial dispute over a group of islands off Hokkaido that were seized by the Soviet Union at the end of World War II.
Cooperation in the medical field, energy development, industry promotion in the Russian Far East and personnel exchanges are among the eight points.
Also on Thursday, Russian Energy Minister Alexander Novak, who is also taking part in the meeting of the high-level Russian-Japanese working group, said Russia supplied 7.6 million tons of liquefied natural gas (LNG) to Japan in 2017, registering some growth in the trade volume.
Japan is the world's largest buyer of liquefied gas. Its main suppliers are Qatar, United Arab Emirates, Australia and Malaysia. Russia accounts for about 10% of this market.