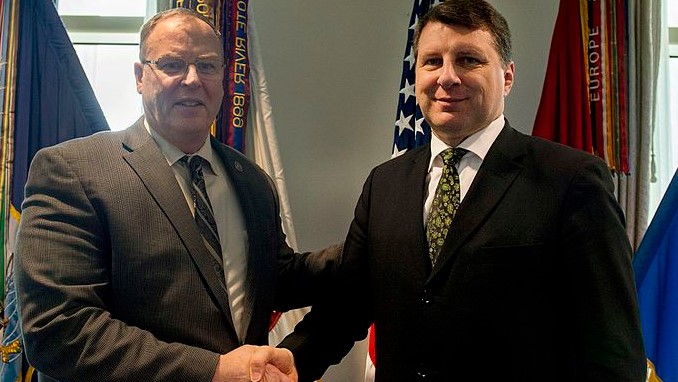 A banking crisis rocking the small Baltic nation of Latvia has turned into a potential diplomatic incident, as the country has signaled Russia might be trying to damage Latvia's reputation ahead of a general election.
Earlier this week, Latvia's central bank governor was arrested on corruption allegations. Now, the country's defense ministry has said the allegations could be part of a "massive information operation" from an outside source, Reuters reports.
The ministry claimed similar incidents, aimed at influencing presidential votes, had been seen in France, Germany, and the U.S.
While Latvia does not name Russia as a perpetrator specifically, the ministry cited recent events as evidence of an attempt to taint Riga's image and erode public trust in the state ahead of its vote for a new premier in October.
The evidence for allegations made by Latvia's defense ministry was unclear.
The scandals engulfing Latvia's banking system have come as a shock to a country that has long-advertised itself as a financial bridge between Europe's west and east.
One example the ministry referenced is the origin of a photograph featured in an Associated Press story, in which details of the allegations against Latvia's central bank chief Ilmars Rimsevics first appeared.
Russia has denied meddling in foreign election campaigns, although respective authorities in the U.S., France, and Germany have all directly accused Moscow of interference.
Speaking to reporters at a news conference Tuesday, Rimsevics said the allegations he is facing, which were made by the Russian owner of a Latvian bank, marked a "very important" moment for Latvia. He denies any wrongdoing.
Rimsevics added that some Latvian banks "wanted blood" after their activities were restricted in the wake of the country's accession to the eurozone.
Latvia's corruption agency said the investigation concerning Rimsevics was unrelated to money laundering accusations against Riga's third-largest lender, ABLV bank.
Last week, the U.S. Treasury accused ABLV of defying Western sanctions by allowing its clients to conduct business with parties connected to North Korea. In response, ABLV said the accusations were based on the unfounded and misleading information.