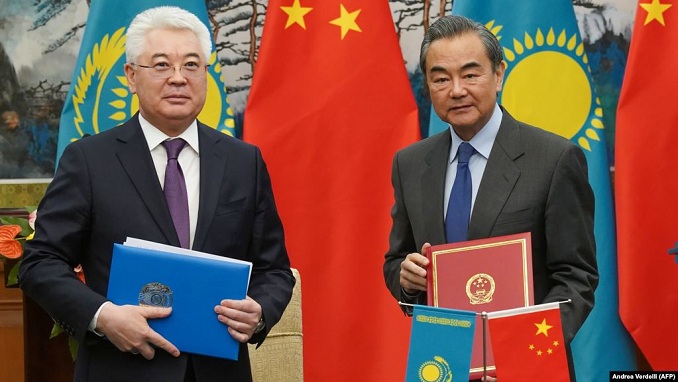 China has become a world leader in the new technologies and bilateral cooperation in this field is "of great importance for Kazakhstan," said Kazakh President Kassym-Jomart Tokayev delivers remarks at the Kazakhstan-China Business Council in Beijing, EURACTIV reported.
"We are interested in creating joint innovative enterprises, technology parks and IT centres with Chinese companies. Our specialists study and develop Big Data, the Internet of Things, artificial intelligence, cloud technologies and supercomputers at the Astana Hub technology park. The simplified visa, labour and tax regimes are provided for participants," he said.
Agriculture is also a promising area of bilateral cooperation. Kazakhstan is one of the top 10 wheat-exporting countries and 2018 wheat exports to China reached 550,000 tonnes, EURACTIV adds.
"We can increase these volumes 3.5 times to two million tonnes. We increased export deliveries of salt to international markets. We can export up to 100,000 tonnes of salt per year to China. We are ready to export dairy products, poultry, beef, lamb, pork, flour, cereals, legumes, and oilseeds to the Chinese market. We plan to increase the production and export of organic food to China," the President said.
Tokayev also noted China is one of Kazakhstan's largest foreign trade and economic partners. Bilateral trade growth grew 11.4 percent to $12 billion in 2018.
"China has invested about $20 billion in Kazakhstan over the years of independence. The sixth meeting of the Business Council is an opportunity to expand the business and investment partnership of the two countries," said Tokayev.
"Kazakhstan entered the top 30 countries among 190 countries according to the World Bank's Doing Business ranking. It is ranked 28th. More than $300 billion of foreign direct investment (FDI) was attracted to Kazakhstan's economy during the years of independence. Our country leads in FDI investments in the Central Asian region," he said.