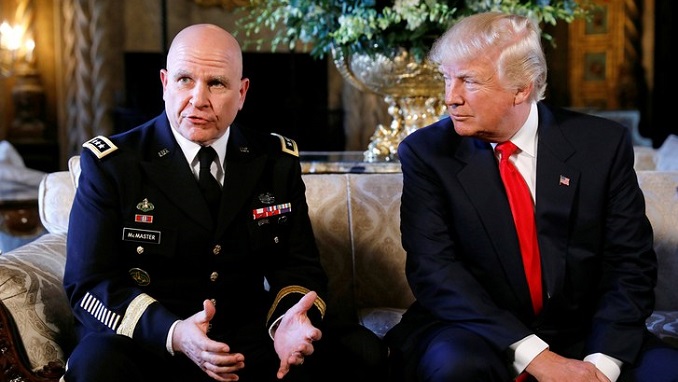 H.R. McMaster offered a stinging rebuke of Russian violations of sovereignty and attempts to sow discord in free societies, activities for which he said the U.S. and its allies must impose higher costs.
In his final public remarks as White House national security adviser, speaking at an Atlantic Council event celebrating the U.S.-Baltic partnership, McMaster listed a string of recent malign activities by Russia, including hybrid warfare efforts: the early March poisoning of a former double agent on British soil, cyber attacks worldwide, and intercepts of U.S. and partner aircraft and vessels, Newsweek reports.
"The Kremlin's confidence is growing as its agents conduct their sustained campaigns to undermine our confidence in ourselves and in one another," McMaster said, referencing Moscow's cyber intrusions targeting the U.S. energy sector and the billions of dollars in damages caused by last year's NotPetya cyber attack.
The Kremlin's tactics, he said, include "infiltrating social media, spreading propaganda, weaponizing information, and using other forms of subversion and espionage."
A 2017 report by key American intelligence agencies found the Kremlin mounted a sophisticated misinformation campaign against the U.S. during the 2016 election.
"Mr. Putin may believe that he is winning in this new form of warfare," he said. "He may believe that his aggressive actions in the parks of Salisbury, in cyberspace, in the air, and on the high seas can undermine our confidence, our institutions, and our values. Perhaps he believes that our free nations are weak and will not respond."
While his administration has taken a hard line on Russia, Trump himself has openly praised the Russian president and refused to acknowledge Russia's role in meddling in the 2016 U.S. presidential elections. The last time McMaster criticized Russia, at a security conference in Munich in February, Trump publicly reprimanded him on Twitter.
But now, McMaster has only days left on the job, after he was cleared out during Trump's March shake-up of his foreign policy team. The three-star general will be replaced by former George W. Bush administration official John Bolton, expected to start April 9.