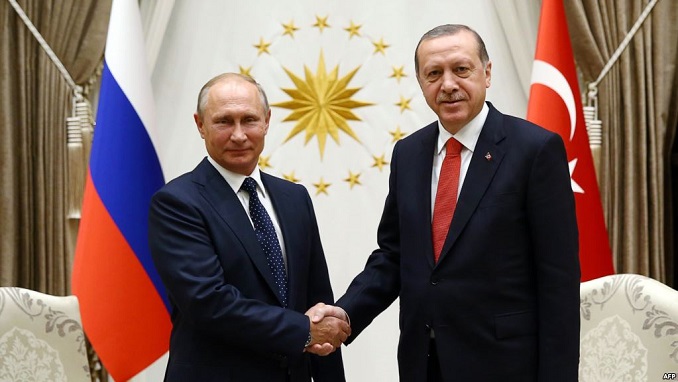 Russian President Vladimir Putin and Turkish President Recep Tayyip Erdogan on Tuesday took part in a symbolic ceremony marking the beginning of construction of Turkey's first nuclear power plant, Anadolu news agency reported.
The two leaders watched cement pouring at the $20 billion Akkuyu nuclear power plant through a video link from Erdogan's sprawling 1,100 room presidential palace in Ankara.
The joint venture already broke ground once in 2015 before being put on hold after Turkey shot down a Russian warplane along the Syrian border, causing relations between Moscow and Ankara to nosedive.
A U-turn in relations has witnessed the two countries closely cooperate on Syria and expand economic ties. Putin and Erdogan met eight times last year and spoke often, signaling the two leaders have been able to compartmentalize their differences at a time when both countries face deteriorating relations with the West.
Located in the southern province of Mersin, Akkuyu is expected to meet 10 percent of Turkey's energy needs by the time all four reactors go online in 2025. The first reactor is expected to be operational in 2023 to mark the centennial of the Turkish Republic.
Russia's Rosatom holds a 51 percent share in the project and is seeking to sell 49 percent. So far it hasn't found a buyer after Turkish companies backed out in February. Critics argue the project is not financially viable and electricity prices are too high.
Turkey already gets 53 percent of its natural gas from Russia. The two countries are also building the $12 billion TurkStream pipeline to deliver gas to Turkey and southern Europe, bypassing Ukraine.
The Akkuyu project has come under criticism for increasing Turkey's energy reliance on Russia. It has also run up against environmental concerns, not least because the nuclear power plant is being built in an earthquake-prone area.